Sir John Moore
I must confess to having no recollection of Sir John Moore from my history lessons at school, nor do I recall hearing his mention on any history programs on TV. I did however come across his name some time ago when reading about A Coruna and we therefore decided to visit his tomb in order to see if we could find out more.
John Moore is (and should be) famous for different reasons in different countries.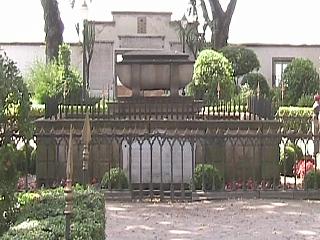 He was the son of a doctor in Scotland and spent a spell as a politician, but was primarily a military campaigner and fought in the infantry in many battles over a several years before being killed by the French in A Coruna. His other exploits included campaigns Corsica and fighting in the American war of independence. From what I can deduce he was on the losing side in most of his battles!. His primary troupe was the 51st infantry and he rose through the ranks to become a general. He was born on 13 November 1761 and died on 16 January 1809. Above, the tomb of Moore in the Saint Carlos gardens.

Sir John Moore's first claim to fame
The first significant achievement of Moore was the creation of the "light infantry" regiment which he pioneered and that has subsequently been used by armies throughout the world. He also came up with several new and innovative training approaches and was regarded as one of the British armies first (and probably only) "humanists" leader.
Moore's main claim to fame was however further a field and achieved in battle whilst allied with the people of A Coruna.
The battle of Elvina
During the time of the Napoleon, a British invasion was expected and Sir John Moore was initially given responsibility for protecting the British mainland at Dover. He later found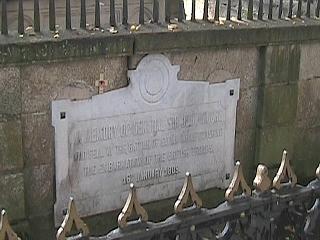 himself leading an army, again against Napoleon, but this time in the Iberian peninsula and facing an enemy numbering around 200, 000 French soldiers. It was during this, the battle of Elvina just outside A Coruna, that Moore was fatally injured and died some hours later from his wounds.
Left the commemorative plaque on Moore's stone tomb in the Jardin de San Carlos, in the old town of A Coruna.
Folk law has it that it was a cannon shot that killed him, but the battle was eventually lost and Moore was buried near by. On capturing A Coruna, the French Marshall (Soult) ordered that a monument be built over Moore's grave and some years later, after the French had left, a more long lasting monument was erected by the people of A Coruna. It remains today and can be seen in the garden of St. Carlos (Jardin de San Carlos) that was built in 1843 and overlooks the bay and Castillo de San Anton.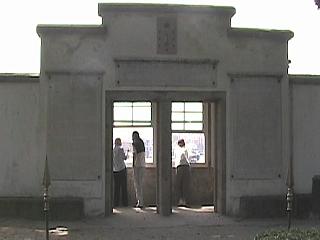 If you visit this garden, not only will you see the tomb, but also two vertical stone inscriptions. Both are the same poem to Sir John Moore and one is in Spanish and the other in English.
The photo, to the right, shows these large plaques with adouble door way separating them. The people who have passed through these openings are looking down towards the castle of San Anton and the ocean beyond.
I must confess to feeling slightly ill at ease when we visited John Moore's resting place. The numerous Spaniards who were there all seemed to know who John Moore was, what he had done and all took photos aside his tomb. We on the other hand new very little. When I later asked about him in one of A Coruna's excellent tourist offices, I was left with the distinct impression that my lack of knowledge about him indicated some failing in my nationalism towards my home country. I decided not to point out that been nationalistic in the UK is now considered "politically incorrect" and could, God forbid, cause upset to the huge number of Islamic immigrants now living in Britain. It makes you question just what were the freedoms and liberties that these heroes of the past fought for and would they have been so willing to sacrifice their lives if they new how easily they would be surrendered by the politicians of the future.
Link to main la Coruna page.
For additional information and photos of Sir John Moore along with a poem that was written about him, see this John Moore link.