---
Plumber Leeds
---
Leeds based plumber with over 30 years experience, Gas Safe registered (this replaced Corgi registration), qualified and registered to undertake all forms of plumbing and central heating work.
---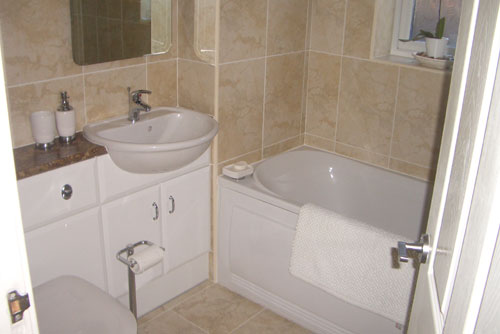 I am a plumber and heating engineer based in Leeds with over 30 years experience ranging from fitting gas boilers and full central heating systems, to installing bathrooms and kitchens.
The plumbing work that I can undertake covers everything from fitting a new gas boiler to tiling a bathroom. I can install a complete gas fired central heating system, or replace a gas fire, and I can plumb in a new kitchen sink, or install a brand new bathroom suite with a wet room that is tiled from floor to ceiling.
During my career I have worked on housing developments, refurbishments, property upgrades and remodels, and I am also a British Gas registered subcontractor.
For the past decade I have run my own small plumbing business based around Leeds working primarily in people's homes and installing new bathroom suites, boilers and central heating ancillaries. Importantly, I also have access to reliable and qualified (registered) colleagues (e.g. electricians, plasterers etc) who I can call on if another trade is required as part of your home improvement project.
You will also find that, as a plumber whose living is based around working in other peoples homes, my work is clean and causes a minimum of disruption.
---
Where I work – Plumber in Leeds and surrounding areas
I am based in Leeds, but I will undertake plumbing work in the Leeds, Wakefield and Bradford areas. As a high proportion of my work is referral based it is unusual for me to be able to start a project immediately, however I will come and provide you with a no obligation quote as soon as possible. I will also make suggestions and recommendations if you are looking for a complete bathroom design and I can provide you with guidance and ideas when it comes to the most cost effective way of completing your plumbing project.
If you want references or examples of my completed work I will be happy to provide you with them.
---
Examples of plumbing work undertaken
Fitting a gas boiler or replacing or renewing all, or any part of a central heating system, e.g. radiators, thermostatic valves, hot or cold water pipes etc.
Installing a gas fire.
Fitting a new bathroom (i.e. the bathroom suite, shower, tiling and any associated general building work), or replacing or repairing problem components.
Installing a downstairs bathroom or half bathroom. This can often be done by utilising under stair areas etc.
Installing and fitting kitchen appliances, e.g. sinks, washing machines, dishwashers and any other utilities that need plumbing in. (This can be in a kitchen, utility room or garage).
Appropriate testing for gas or water leaks etc.
Any other plumbing or heating engineer work with the exception of boiler repairs.
Tiling – originally plumbers were plumbers and tillers.
---
Contact me at ---------------------
---