A family meal in Galicia
Galicia has a lot going for it and three of the big pluses are seafood, local wine and (if you are lucky) good weather.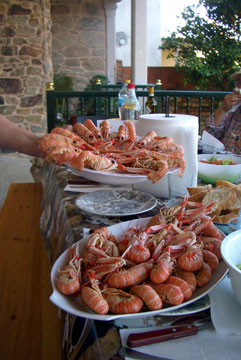 When these elements combine and you add family and friends you get outdoor dining Galician style.
During our times in Galicia we are often fortunate enough to be invited by family friends to a big outdoor barbeque. These meals usually start sometime between 1.30pm and 2.30pm and, along with conversation, last for three or four hours. Unlike in the UK (and I guess the USA), you do not leave the table and "retire" to the living room when you finish eating.
People are always the central focus in Galician social situations, so these meals will often have a dozen, or even twenty or thirty people at the table(s). The atmosphere is always informal, relaxed and the sole intention is to enjoy good food and good company. So, based on that, this page has some photos and descriptions of one of these events.
These days a lot of people in northern Spain live in apartments, but those who have houses invariably have very large gardens where they grow there own vegetables, have a stone barbeque and usually a covered dining area of some description. During summer the barbeque and the outdoor dining zone get used extensively.
The friends, whose hospitality is shown in the photos, do exactly this and we are fortunate enough to get regular invitations to these alfresco lunches.
The photo above right shows the first wave of food starting to arrive and the langoustines are even bigger than they appear. We must have had at least five or six trays of langoustines like these.
The food
If there is one thing that the Spanish are not, it is vegetarians.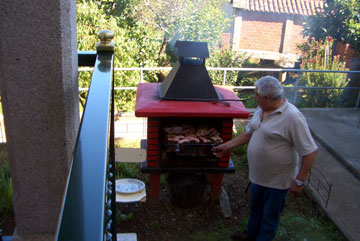 So any dining experience with the Spanish will involve a lot of meat, seafood, or both. The other thing that no Spanish host would ever want to see is an empty serving dish. There will always be more food than you can eat and the minute that your plate is empty you will be vigorously encouraged to top it up. Quite literally the food just keeps on coming.
Informality and enjoying yourself is what eating is all about in Galicia, so there are rarely fixed starters or main courses and eating with your fingers is absolutely acceptable – in fact with items like king prawns, langoustines, crabs, and every kind of "off the bone" meat that there is, using your fingers becomes essential. There is also no need to wait for everyone to arrive. Once the food appears you start eating and often people will arrive late, or even come and go during the meal – this is not seen as being rude.

Bread is also a must in Spain and thick crusty artesian style bread is served with all meals. Calamares, pulpo (octopus) and pimientos de Padron are also regulars at big family parties, but you usually pick away at them rather than have them as a separate starter.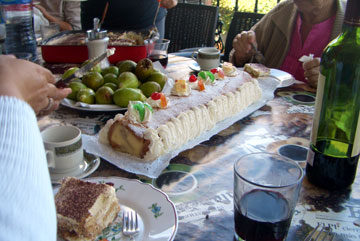 Invariably when we eat with Galician friends they will have wine from a small local bodega. This wine will usually be unbranded, but it is normally pretty good and generally both red and white wines are served whenever there is a gathering of more than four or five people.
Right, on this occasion the desserts were - tirimisu, the long cream cake in the picture and fruit. The labelled wine was from a registered bodega.
In terms of what you get, this is a typical line up of dishes for a group of fifteen to twenty.
Wine - red and white sourced "very" locally, bread, something like calamares or pimientos de Padron (or both), king prawns or langoustines (or both), sardines, pork ribs, beef, lamb (usually off the bone), criollos (large chorizo style sausages) salad. Dessert will then probably be some fresh fruit along with a cake like tiramisu or tarte de Santiago (a regional tart a little bit like almond tart).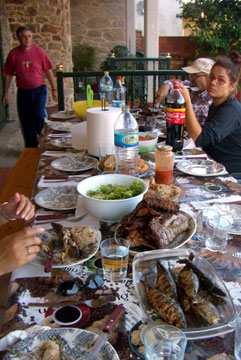 During these meals the hosts often spend much of their time preparing and serving, and the food that leaves the barbeque does so on a continuous basis.
At the end of the meal things are concluded with coffee and a liqueur. The latter normally being a local speciality made using the fermented skins of grapes. The talking does of course continue and people leave (and sometimes return) at their leisure.
Left, this was the start of the lunch when both people and food were just beginning to arrive. Half an hour later there were about twenty people there. The fish in the foreground are of course freshly landed sardines.
What to bring (when you are a guest) is another little challenge at these meals. You are not of course expected to bring anything, but if you do wine is not the offering to give to your hosts (unlike in Britain where it is). We take English chocolates and cakes are another more acceptable show of gratitude.