Lugo Galicia
This is our entry page to Lugo in Galicia. To the right you will see a menu bar containing link buttons that will take you to themed pages featuring Lugo's old city, its Roman wall, its monumental Cathedral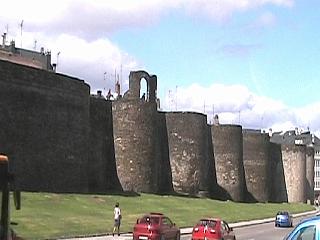 plus information about the areas fiestas, beaches and more. You can use these buttons to navigate around this section and explore the city in detail. There are plenty of photographs for the casual browser and you can return to this page at any time by hitting the Lugo button in the left menu bar.
Above, a photo of Lugo's famous 1700 year old Roman wall, built on the boundary of the original settlement, it is the old town's most important and visible monument.
Lugo is one of Galicia's four Provinces and its northern shores are in the "rias altas", or upper bays of the region. Although not yet on the international vacationers list of "must see" destinations, the province has much to endear it including a walled town in its capital city and many typical Galician towns and villages.

Why visit Lugo?
Lugo has spectacular scenery, a history and architectural heritage that spans from the Celts and Romans to the Neo-Classical and Gothic, plus a culture and cuisine that is typical of the region.
For the holiday maker the area offers a chance to discover a locality which, whilst full of sightseeing treasures and scenic beaches, is relatively unexplored by visitors from outside Spain. Do not expect to hear English voices in this part of Galicia, unless that is you are in a tourist office, and accept that an international cuisine is not usually available, the province has its own gastronomy and it is the envy of the rest of Spain.
To really explore Lugo a car is essential and at times the best approach is simply to "make for" a particular destination and take in whatever you pass on route. Many interesting stops are not even mentioned in most sightseeing guides, so go with your instincts.
Reached easily from Galicia's premier city of Santiago de Compostela and, as the regions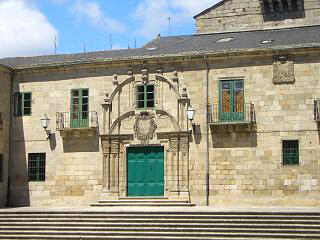 largest geographic district, Lugo encompasses a variety of towns and monuments with serious visitor appeal. You can see the remains of ancient Celtic villages called "Castros", visit old monasteries and convents, and see the mountainous vistas and deserted idyllic beaches of the area.
Above, the "Palacio Episcopal" behind the Cathedral in the old district. This is the point from which many tourists start to explore the city.
The inhabitants of this district will generally be friendly and helpful, so don't be surprised if a car park attendant gives you a free map of the city and marks out a sightseeing route for you to follow - one did for us!
To see more of Lugo, check out the link buttons in the right menu bar, or use this link to return to the main Galicia Spain home page from where you can explore the rest of the region.
---
You will find some off-site information about Galicia below these sponsored ads.
Off site information about Lugo Galicia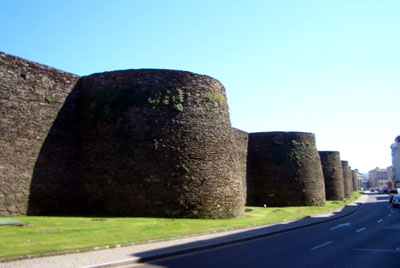 Alternatively, if you can speak or at least read Spanish, try the official council site's offering at concellodelugo. That said we hope you will find plenty of tips, recommendations and suggestion here in our Lugo guide.