VIGO
Vigo is Galicia's largest and most populated conurbation with no less than 300, 000 inhabitants currently living in the city. When the greater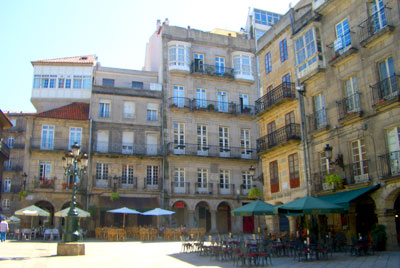 municipality of Vigo (covering about 110 kilometres square) is included, this figure swells to around half a million people.
Despite these facts and Vigo's status as Galicia's economic powerhouse, the city is neither a regional or provincial capital. The latter falls to Pontevedra and the former to Santiago de Compostela.
Vigo's location sees it expanding around the ria de Vigo (bay of Vigo) and initially the most noticeable features of this location are, the motorway (on which you travel) as it arcs its way around, and often above the city, and the massive port side developments.
Vigo is a vast city, but it is a clean and in parts very striking one. It is also a location that is attracting an increasing number of tourists with its mix of history, beautiful beaches and a modern cosmopolitan outlook.

Getting to Vigo
Because of its massive port and economic importance, Vigo is easily reached from anywhere in Galicia and indeed most of the major cities of Spain. Main highways connect Vigo to Santiago, la Coruna, Pontevedra and Madrid and a railway station and rapidly expanding international airport ("Peinador") add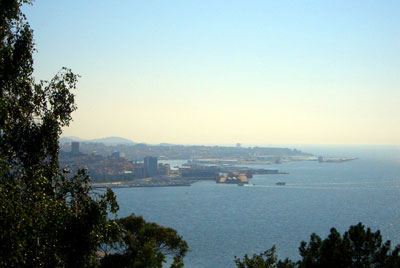 further travel options. This airport now attracts some of the budget airlines and more are destined to use it in the near future.
Vigo's port is considered to be the best in Galicia and recent years have seen it established as a departure point for cruise liners touring the Atlantic coast of Europe. The port includes a large marina and has one of Spain's most exclusive yacht clubs, but on a less grandiose scale, tourist can also take sightseeing trips down the ria.
Weather and tourism
As tourism to Vigo has increased, so has an appreciation of the areas unique micro climate. Unlike most other Galician towns, Vigo enjoys high summer temperatures, but with the benefit of much milder and more comfortable winters. The explanation for this is the sheltered and protected location of the city and the statistics speak for themselves, with average annual temperature as many as 5 degrees centigrade higher than places like Lugo and la Coruna.
What has Vigo got to offer
Although Galicia has become an established all season tourist destination, Vigo has been strangely slow in attracting the visitor numbers seen in Santiago de Compostela and neighbouring Pontevedra. One explanation for this could be the city's reputation as a commercial center, but more probable is the lack of confidence that Vigo has had in its own ability to be a tourist destination. Things are however changing rapidly and, aside from a number of good tourism offices, Vigo also has tourist officers out on the streets with guides and information which they hand out to visiting tourists.
Most tourists visiting Vigo for the first time are surprised and impressed with the city's old quarter, a district that is often given scant mention in guides and at tourist stations.
Vigo's old district is not as expansive as some of Galicia's other historic quarters, but it does cover an interesting area on the slopes above the marina. High points of this zone are a number of beautiful plazas along with buildings and streets that have survived from the medieval period and show the humble beginnings of the original settlement. This old district is one of the most underrated in Galicia.

Vigo's history and heritage though is not only confined to the old quarter. The greater city has many stunning examples of civic architecture dotted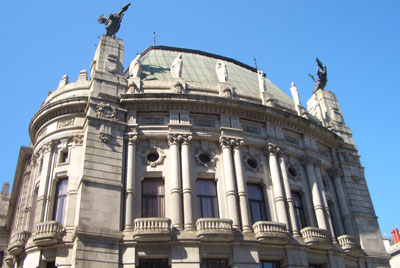 around its centre and there are a number of squares and parks that have great tourist appeal.
Other draws to Vigo are its numerous beaches, some of which are claimed to be the best in northern Spain and of course the recreational areas around the harbour and port. The city's association with commercial ocean side distribution is justly foundered, but although many parts of the port are industrial, there are also many parts that are visually pleasing and worthy of a tourist's attention.
Left, the Centro Cultural Caixanova in Vigo.
Aside from the obvious features of Vigo's heritage, beaches and marina, it also has some excellent museums and galleries, a multitude of high quality restaurants serving the freshest of seafood, and even the remains of an old Celtic fort town. For walkers there are opportunities to walk on the hills above the city with spectacular views of the bay of Vigo down below. All told Vigo is a city with a wealth of attractions, especially to those wanting a short break, or a long weekend away in a destination that they have not previously visited.
For more detailed information (and photos) on this city and why you might want to visit or holiday in it, see the Vigo menu in the right hand column.