Towns, villages and places of interest in Galicia
Select from the list of Galician towns in the menu running down the right hand column, or use the more complete list of links further down the page.
Whist Galicia has several large and well known cities, it is the smaller towns and villages that represent the real character of the region and at least some of these towns should be on your "not to be missed" list if you take a Galician vacation.
Just like anywhere else, Galicia has a wealth of small conurbations, each with its own peculiarities, architectural styles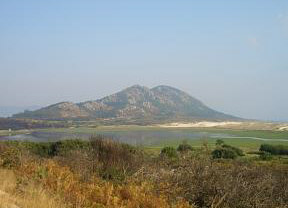 and local cuisines. Most of Galicia's towns are coastal, but some are located inland and many have intersting churches, monestaries, town houses, castro's (celtic settlement ruins) and festivals. The idea of this section of Galicia Guide is to give you some ideas of what you can find and where. So, if you want to see a festival with a difference, try "Pobra do Cariminal". Or, if you want a town with a fishing heritage look to Ribiera.
To the right and below are text button links to various towns that we think are worth your attention in all four of Galicia's provinces. Namely, A Coruna, Lugo, Ourense and Pontevedra. We also include Castro's and other landmarks in this section of Galicia Guide.
Most of our town guides are several pages in length and all feature photographic highlights and our subjective opinion's of the locations in question. If you disagree with anything we say, or would like us to include somewhere in Galicia you have visited, send us an email. To discover more, simply click on the appropriate button or text link to find out about the Galician destination of your choice.
This website is constantly updated.
To get back to this index page at any time, hit the "Galician Towns" button in the left menu bar.
---
A list of mini guides to towns and places of interest below
Muros A popular coastal port
Padron An historic and important inland town
Boiro Beach resort
Finisterre A very famous fishing village
Porto do Son Sea side conurbation of towns
La Toja A small island
Oin (Rois) A little village in Rois near Padron
Outes A village on the coast
Pesqueria del tambre Part of a national park
Barona Some castros (Celtic ruins)
Lousame An inland district
Negreira One of the few non coastal towns
A Pobra do Caraminal A quaint place by the ocean
Rianxo Both a port and pictureque town
Ribeira Large fishing port
Santa Cruz An old castle near la Coruna
Samos Well known for its monastery
Monforte de lemos This inland town is overlooked by a castle (now a parador)
Castro de viladonga Some more castros
Catoira towers Fortress ruins with a Vicking connection
Sarria A town in Lugo province
Ferrol A big city near A Coruna
Betanzos A typical Galician town in la Coruna province.
Pontedeume A town close to la Coruna city.
Castro de Neixon Located near Boiro.
The Dolmen of Axeitos An ancient burial ruin.
Carnota A small town with a big horreo and an even bigger beach.
Sanxenxo The premier beach resort in Galicia.
Lira and its horreo A town with something to see.
Castello de San Felipe A great coastal castle close to Ferrol.
O Pindo A stunning little beach town in la Coruna province.
Tui A classic Galician cathedral city on the border with Portugal.
Vilagarcia de Arousa A large town on the Arousa ria with a monastery.
Cambados This might just be the most picturesque town in Galicia.
Brion A town very close to Santiago de Compostela.
Castillo de Soutomaior This, in our opinion, is the best castle in Galicia.
Asturias This is the eastern neighbour of Galicia.
Ribadavia We think that this is Galicia's best in land town.
A Guarda and castro This town has one of the best Castros.
Vimianzo castle An inland castle
O-Carballino This is a large town in Ourense.
Castro Caldelas In our view one of the best places to visit in Ourense.
Xunqueira de Espadanedo A small town in Ourense.
Corcubion A small town on the la Coruna coast.
Allariz A town in Ourense with a nice medieval quarter.
Celanova This town in Ourense has a large monastery.
Panton This town is on the Lugo - Ourense border and has a monastery.
Muxia Coastal town in la Coruna with a mythical and magical healing stone.
Monterrei castle A large castle in the south of Ourense.
Verin A medium sized town in south eastern Ourense.
Monterroso Hamlet in Lugo, popular with English speakers re-locating to Galicia.
Freixo A coastal town near Outes in la Coruna
Porrino Small town south of Vigo
Antas de Ulla New 01.08.2008 A little hamlet in Lugo.
Palas de Rey A small town in Lugo province.
San Simon Some small islands in the ria de Vigo.
Baiona A coastal town in southern Pontevedra.
Isla de Arosa A small island in Pontevedra province close to Vilonova de arosa.
Camarinas A pretty coastal town in the more northerly part of la Coruna province.
Lighthouse (near Camarinas) Large impressive lighthouse with visitor centre.
Lighthouse (near Corrubedo) A small lighthouse at the end of the Noia - Muros ria.
San Fransisco beach A very popular beach in the la Coruna province.
Cuntis A thermal Spa town in Pontevedra province.
Cerdedo A little inland town.
Esgos A small village in Orense province with a monastery.

---
You can find brief information on more towns if you visit the index areas of la Coruna, Ourense, Pontevedra and Lugo (use the menu buttons to the left). In the menu bar that will appear to the right there will be a button taking you to a page about towns in that province.
More towns are added all the time, so please visit again. To see a list of Galician towns by province, see Galicia towns full list.
---