Ourense Galicia – a general overview
Ourense (also spelt Orense) is Galicia's only land locked province and it is probably the Galician district least known and least explored by foreign tourists.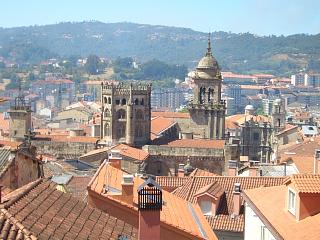 That however should not deter you. Ourense's self named provincial capitol has a magnificent old town with many monumental buildings, both religious and civic, and an ancient bridge that spans the river Mino with sections dating back to the Roman occupation nearly 2000 years ago.
The photo to the right shows a view looking across the old town of Ourense from a mirador, or viewing point on high.
For a quick summary of what Ourense city has to offer, click on this link or go to the page titled,

Our opinion of Ourense

- there is a button in the right hand navigation bar.
Getting to Ourense
Geographically, Ourense is situated in the south west of Galicia and it takes between one and a half and two hours to reach its district capitol from Santiago de Compostela (A Coruna province) by car. The first half of the journey takes in a toll road, but the remaining distance has to be made on standard highways and this accounts for the extended duration. The actual travel distance is around 110 km. A similar journey to Vigo takes about one hour. As ever, the Galician scenery helps to compensate for the former journey's rather long travel time.
Although Ourense does not slip off the tongue quite as freely as some of Galcia's other cities, it is a provincial capitol and it possesses all the trappings you would expect from one. It has a lively cafe bar culture, many distinguished streets and some large and notable buildings including a cathedral. Since the areas offering the greatest appeal to a tourist are in the older parts of the city, Ourense's relatively compact nature means that many of its prime exhibits are assembled together within easy walking distance. This area is described as the "Monumental district" on the signs within the city.
Exploring Ourense city
A good exploration of Ourense's old town can easily be undertaken in a single day, during which time its cathedral, other prominent religious buildings, Roman spa and shopping areas can be visited. Ourense, unlike Santiago, does not "pit" you against the clock, but is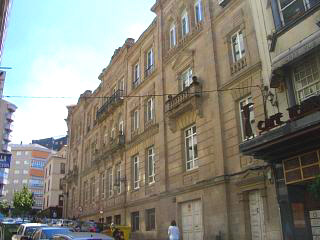 much more a town around which you can wonder and accidentally discover its architectural treasures. The atmosphere too is very different from the big cities of A Coruna and has far more in common with Lugo or even Pontevedra.
Left,a typical street in Ourense's distinguished old town.
If you venture beyond Ourense's capitol city, the province as a whole offers the opportunity to visit many small towns and see the monasteries and forts that typify much of Galicia. The scenery is also impressive and the river and reservoir network add to the area's overall visual spectacle. However, with a low population Ourense city remains the only urbanization of real note in this province and it is here where most of the foreign tourists who visit this district of Galicia will tend to focus their sightseeing attention.

Weather and climate
Ourense has a very mild climate with winter temperatures rarely dropping below zero degrees and unusually hot days are not uncommon in the summer. Its climate is generally regarded as being more typical of southern Spain. It does however still have Galicia's abundant rainfall. Ourense city is at an altitude of 128 metres above sea level.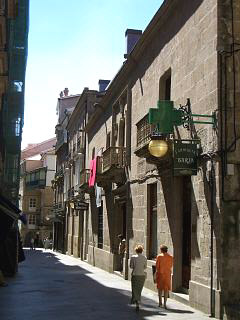 Find out more
To explore Ourense Galicia in more detail, select from the menu buttons in the navigation bar to the right. You can find out about its squares and plazas, churches and fiestas, towns and cathedral and get our opinion on this Galician provincial capitol.
Left, A narrow street close to the cathedral and a famous baroque church in the medieval district. The building in the picture is the "Palacio de Oca-Valladares".

Sponored ads below and right.