Negreira an inland Galician town
Negreira is located in the "rias baias", or lower bays area, but is several miles inland and has few direct connections with the sea or fishing. In this respect it is unusual, since most of Galicia's towns are coastal and focus around a bay or man made harbour.
In order to reach Negreira you head inland away from the coast and drive up and then down some extensive hills/mountains. The journey takes a leisurely hour if your starting point is at, or near to, the throat of the "ria de Muros y Noia" (bay).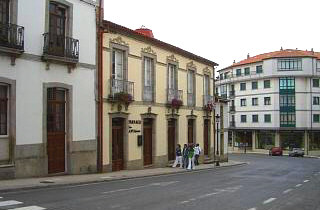 Left, a shot of a street corner in Negreira.
There is nothing of any great significance to commend Negreira to the visitor, but it is certainly worth a stop off if you are in the vicinity and it does have some buildings of architectural and aesthetic interest, a few of which are shown to the left and below. The fact that it is located away from the coast also makes it counter-typical, although the lush farmland surrounding it is indicative of its main income source - agriculture.
What to see in Negreira
Negreira is not a location on the typical tourist map and has no medieval or historic district hiding away in an old town center. Also very unusually for Galicia, Negreira's streets are wide and straight and the town itself is nestled in some what of a valley, masked by hills and mountains on all sides. There are plenty of bars and shops, but as you move away from what appears to be the hub of the town, some newer and less appealing buildings start to appear.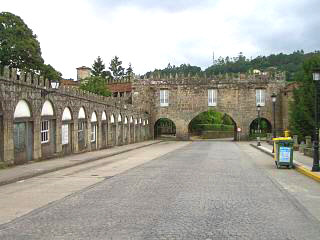 Right, what we believe to be the "Pazo de Coton", described below.
The "mirador" facades of many of Galicia's structures are not so common here, but on entering Negreira you are channelled towards what must have been the original settlement's arched and fortified gateway. It is very impressive and is the sight that originally motivated us to park the car and take a look around. To the right of the arches (and just out of shot) is the main town square which features an unusual sculpture showing two people, one of whom has legs which have metamorphosised into tree trunks!
When we visited Negreira it was Monday 25 July (St. James day), the biggest Spanish holiday of the year and also the period of the afternoon siesta. Consequently, we were unable to find out very much about this building, but the adjoining wing (to the left of the main arches) is sub-divided internally into what look like small stalls, many with work tops and old sinks suggesting a market or food preparation use at some time in the recent past.
Where to get information in Negreira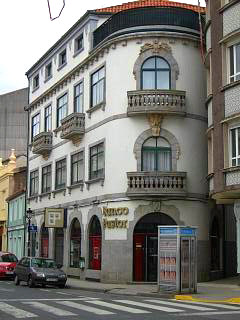 At,or near to, what looks like the town center is a location map citing the towns "tourist attractions". This appears to be the only visitors aid and lists eleven buildings/monuments of interest to the explorer.
Among the items listed are some squares (piazzas), some houses (casas) and an old Roman bridge, all staple diets of Galicia's towns and villages.
During our venture to Negreira, we were pushed for time and consequently never found the location of the old bridge which actually looked quite picturesque on the illustration accompanying the tourist map.
Final Summary of Negreira
Galicia is full of places like Negreira and if you like to explore (and Galicia is not the region for you if you do not), then you can happily wonder around the streets and shops for an hour or so before having a coffee and a snack.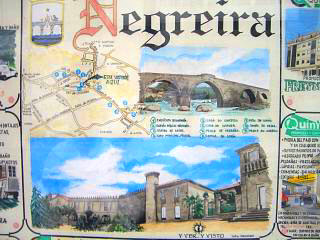 In addition, the drive to Negreira is scenic and at times spectacular (irrespective of where you approach from) and we spent a full afternoon getting to, looking around and heading back from this small principality. That said it is not a highlight of any tourist guide, nor does it warrant a visit if you are not based in, or travelling through, this stretch of the rias baias area. If on the other hand you are, then take a look!
A further bit of information that some people may wish to be aware of is that, unlike anywhere else that we have been to in Galicia, Negreira has a significant asian islamic population.
Above, right, part of the tourist map of Negreira showing the old bridge.