Serra de Outes
Outes is located adjacent to the estuary that feeds in to the "rias de Muros y Noia" (Bay of Muros and Noia) at the very bottom of the bay itself. The famous medieval town of Noia is only a short distance away and is reached by traversing a large and very impressive looking bridge that suspends you over one hundred feet above the river "Tambre".
Outes is yet another fishing port, but also has (or had) ship building facilities just off shore. A large timber yard still exists and makes a part, at least, of this coastline look somewhat industrial.
If you look inland from Outes, you are faced with a mountainous and hilly backdrop that is very much a part of this region. Looking in to the bay you see what appears to be a large lagoon with no visible view of the bays mouth and open sea.
What to see and do in Serra de Outes
At this point I have to confess that whilst we have spent many days close to, and taken many journeys driving through, Outes, it is a town that we have yet to explore in any detail. The view of the large cranes, just off-shore, as you drive down the coastal road acts as no encouragement to do this and the port itself is far from attractive.
Outes does have a famous mansion house called the "A Serra", that sits in the center of the town and it also has the history associated with all old Galician towns, but its drawback is that it sits mid way between the two tourist havens of Muros and Noia - and frankly your time would be far better spent visiting either of them.
What else
Well it certainly is not all doom and gloom and Outes is definitely an ideally located base from which to explore this part of the Galician coastline and countryside. Furthermore, just down the road is the town of "Ponte Nalfonso" which is quite quaint and has a beautiful old 14th century bridge which is still actively used today.

Ponte Nalfonso straddles the "Tambre" river and also has a couple of traditional style bars.



Above is a photo of the old 14th century bridge at "Ponte Nalfonso" which is only wide enough for a single vehicle, but does have several passing points. The bridge features on may posters and promotional campaigns publicising the "ria de Muros y Noia".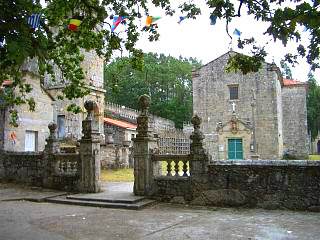 Many churches also cover this area and if you drive inland, a short distance from "Ponte Nalfonso", you can see the church in the picture below. I am no certainly no great Christian, but I do find the vast range of styles and scales of the various religious building in Galicia pleasing to the eye. They also indicate how even the smallest villages were still able to build impressive and ornate places of worship.

Beaches
This is a tough one because the beach of "la praia de Brona" is regarded (according to most local guides) as the best beach in the area. I would certainly disagree and would actually rate is a possibly the worse.
What it has going for it is road side parking, a bar and restaurant just off the beach and good showering facilities. You can also hire a small yacht or wind surf board at the beach and there is, I beleive, some accomodation close by too.
It all sounds great, but in an area that most people will visit for its natural beauty, this beach looks as man-made and sanitised as it gets. When we visited it, I even paddled out to check if the sand was genuine (it was) or imported. That said this beach is always busy, has little or no current and is ideal if you have small children. But if this is what you look for in a beach why visit Galicia! At a guess I would say there are 20 far superior beaches within 20 minutes drive in either direction, but with beach side facilities? ....... No.
Serra de Outes Festivals
So far I seem to have been very negative about Outes and it is not deliberate - I have no "bone to pick". Anyway, Outes does have fiestas and some good ones.
"San Antonio" is the Patron of Outes and has his own festival, as does "San Pedro" and both take place in June. In July there is the fiesta of "Santiaguino da Balsa" and in August the feast of "San Cristobal". The final festival of the season is "San Orente" which happens in September.