Cambados
Cambados is a real gem and one of the most attractive and appealing Galician towns we have visited.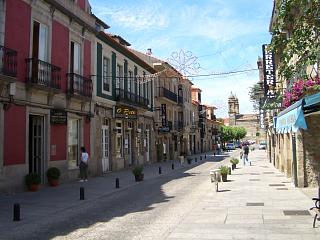 It is located towards the entrance of the ria de Arousa in Pontevedra province and contains all the best features of Galicia whilst omitting all the worst ones.
The easiest way to approach Cambados is via either the AP-9 toll road or the N-550 highway. Both these roads take you from the north or south of the region and avoid the much longer (but more scenic) coastal roads.

The main point of entry into the town is through a stone arch in what were once the town's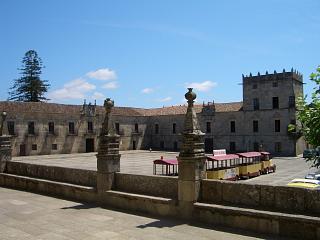 secure walls and when inside you see a magnificent stone pazo that is now a bodega.
Left, prazo de Fefinans, the pazo, now a large bodega at the entrance to the town.
This part of Pontevedra province is a center for wine production and Cambados is full of bars and specialist wine stockists selling the numerous vinos of the province.

The main square, prazo and church
The most obvious and notable part of Cambados is the large plaza (below) containing the fortified prazo de Fefinans and an elevated church. Together they shape the main town square and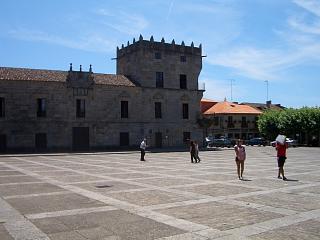 represent classic examples of vast Galician granite structures.
The prazo, now a bodega, offers limited tours, but hours are restricted and it is always closed between 2.00pm and 5.00pm. This building is L shaped in plan and mainly two storeys in height with a red tiled roof. It possesses the appearance of having occupied its location forever.

The church lies adjacent to the prazo and you need to climb a short flight of stairs to reach it. It is one of the better examples you will see in Galicia. Both prazo and church have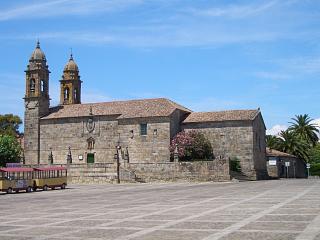 some highly ornate and three dimensional stone heraldry embossed upon them and both dominate the plaza in their own individual ways.
Left, the church in the plaza opposite the prazo.
Behind and to the side of the church are a number of traditional granite houses whilst the main street (Calle Real) leading away from the square continues the elegant look with quality restaurants, enticing bars and numerous outlets displaying the products of the vine lining both of its walkways.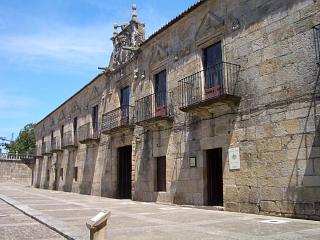 Right, another view of the fortified prazo that acts as the most notable symbol of Cambados.
See this link for Hotels in Cambados.