Castro de Santa Tegra
A Guarda is the most southerly coastal town in Galicia and the history of a settlement at this location dates back at least 2000 years.
Although the town is becoming increasingly popular with tourists, it is probably A Guarda's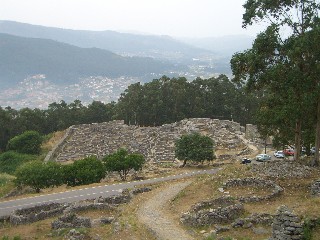 large and carefully restored castro, the Castro de Santa Tecla discovered in 1913, for which the town is best known. The castro complex also has a museum and visitor centre plus some trinket shops and market stalls, the latter in poor and tacky taste.
Right, Looking down on the famous castro at Santa Tegra.
You reach the Castro, found on a mini mountain above the town, via a purpose built road for which there is a one euro per person entry charge. A leaflet about the ruin is also provided (in Spanish only).

The road to Santa Tegra is steep and elevated and can get quite hairy at times,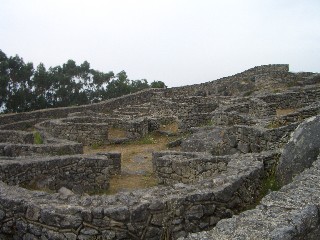 but it does offer phenomenal views across the ria (bay) on a clear day. Regrettably for us the weather was poor during our visit and consequently we have no panoramic views to put on display.
Left, a closer view of what remains of the castro.
We thought the actual Castro ruins had been significantly renovated (although in a positive way) and the site also benefited from the complete reconstruction of an assumed family dwelling to the side of the main settlement. This reconstruction was sympathetically done and visitors could enter it and look around. All told, we felt the exhibit very good, but the ruins are busy, even on a wet and rainy day.
It is estimated that about 50% of the castro has been excavated so far and most of the units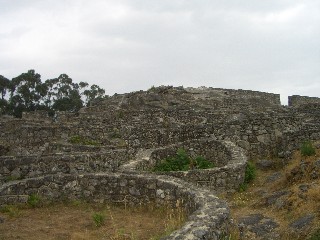 are round with an entrance or lobby area at the opening. The cubicles have no windows, but do have what is assumed to be a fire place at their center. The roof was probably made from branches and leaves, exemplified by the reconstruction. This particular castro is thought to be Roman and also possibly Celtic. Size wise, the castro units (family dwellings) vary between about 2 metres to 6 metres in diameter with the walls having a width of up to 0.5 metres in thickness. All the walls are made from local granite stone.
Also close to the Castro de Santa Tegra is a road of crosses known as the Way of Crosses (Via Crucis del Monte Santa Trega). It lies just above the main area of castro remains and just below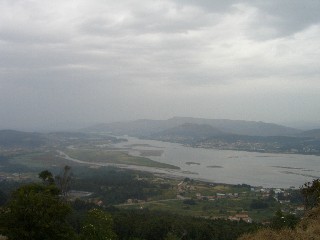 the museum area. There are in fact two Ways of the cross, an original old route and a much more recent 20th century one. The crosses are said to be motivated by and based upon those of Celtic Ireland and ancient Britain.

Above, This shot was taken on a dull and rainy day from the castro car park area. On a brighter day the view would have been quite spectacular.