The Cuntis Water Spa pools in detail
When we go to Cuntis Balneario it is primarily to use the pools in the main Spa zone. As previously stated, you can have an afternoon or a morning session – the Spa closes for siesta over lunch - and the cost is about 18 Euros per person.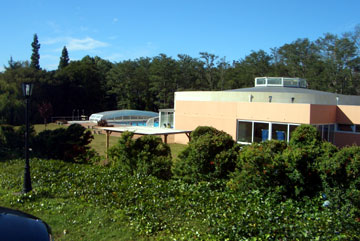 Here is what you get for your money.
Firstly, hygiene is upheld fanatically at the Spa, so as soon as you leave reception you will be given plastic covers to go over your shoes. You will also need a towel, flip flop style sandals and an elasticised hair cover (for both men and women). If you do not bring your own you will have to hire them from the Spa. You then follow a line to the changing rooms and lockers and, having changed into a swimsuit, you can enter the main Balneario zone.
Right, you can see the enclosure for the main thermal pool and hydrotherapy pools along with part of the outdoor pool.

Balneario half day pass facilities
In this main Balneario zone you will find the following facilities. A large indoor and outdoor pool (both of which are naturally warm from the Spa water), a couple of small Jacuzzi pools, a dry sauna, a steam room and another hydro room (that to be honest I have never figured out). The big attraction though is the large indoor pool which is irregularly shaped and has a number of hydrotherapy areas within it. These therapies include the following.
Water jets positioned down the sides of the pool walls at different levels that massage the back, legs and feet. These jets follow a sequence, so they will fire pressurized water at your back, buttocks, upper legs etc.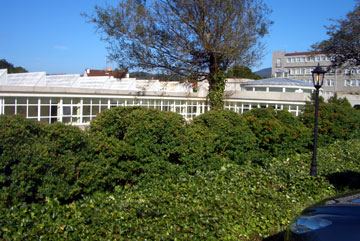 At the end of the sequence there is a pause.
Two large circular Jacuzzi pools that you sit in (and which form a part of the main indoor pool), plus a further Jacuzzi pool that is formed so that you lie in it. These pools run for several minutes, then pause for a couple of minutes.
A pressurized circular river! This is a little bit like a very tiny version of the "lazy rivers" that you find in places like Disney World, except that the pressure is high and you are almost forced around. The idea is to walk against the flow and use your muscles and balance.
Above left, this is another part of the Balneario complex that leads to therapy rooms and treatment areas. The centre is set in pleasant grounds and has it own carpark.
In addition to the above, there are a couple of fountains, pressure jets that massage your head etc, and the large pool itself. The pool is surrounded by sun beds, so on your arrival you place your towel on one of the beds and walk to the pool's edge before removing your sandals.

The outdoor pool does not have all of the therapies of its indoor equivalent, but it is still anice place to be.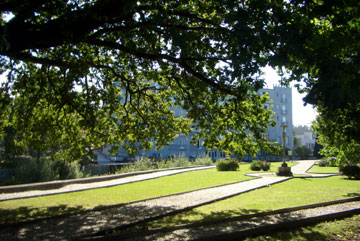 We think that this Spa is well worth a visit. We tend to go there when the weather is poor, but it adds variation to any vacation and it is a great place to chill out. Trained staff are always on hand by the pools, but not all speak English. You can also buy a number of Spa products like soaps etc at the main reception and compared with the UK and USA the prices are cheap.
Finally, just over the road from the Spa is Cuntis Balneario Hotel. This hotel is connected with the Spa and many people stay there on a package that includes treatments, accommodation and meals.
Above right, this is a shot taken from behind the Spa hotel which is set in its own grounds. The entrance to the hotel is only a minutes walk from the Balneario.