Galician tapas
Here are a few examples of the kind of tapas that you will see in Galicia. Many are seafood based, some are served free as an accompaniment to drinks, whilst most are ordered as separate dishes that you mix and match – usually amongst friends.
Prices for tapas dishes vary, as do the portion sizes, but you will see these treats being served in most bars and eaten at all times of the day. The selection of taps in Galicia is not as broad as that of Barcelona or Madrid, but the quality is usually very high and any visitor to this region not sampling a plate or two of tapas is missing out on the Galician experience.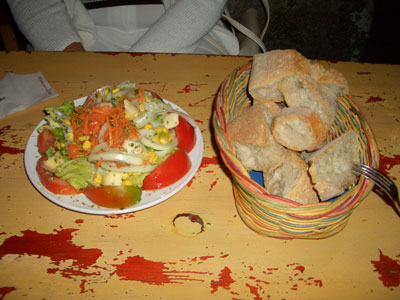 Crusty bread (a staple with every meal) and a fresh salad.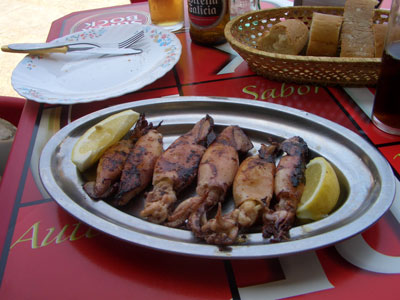 These are char grilled squid and they were caught just a few hours ealier.They are one of the best "simple" seafood dishes you will ever taste.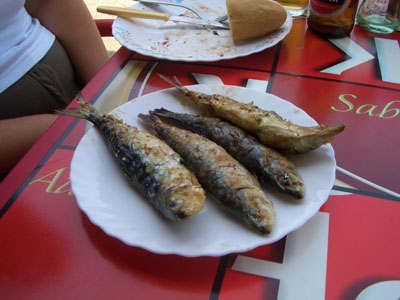 Galicia's famous sardines, also freshly caught, and cooked before our eyes in on an outdoor flame BBQ and continually dusted with sea salt during the process.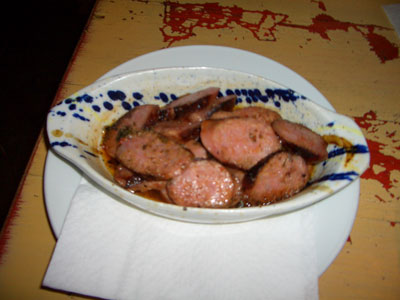 There are many tyoes of chirizo in Galicia and this is one of them - prepared and served with a light sauce.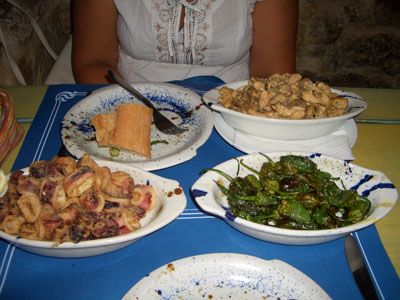 A typical mis of tapas dishes with pimentos de Padron, calamares, chicken and of course bread.

Not quite tapas, but a traditional pastry in the province of Ourense with a cup of coffee.
For more, click this More Galician tapas pictures.