Monforte de Lemos
Our attention to Monforte de Lemos was attracted by the many photographs of its hill top monastery, now a parador, which dominates this town. Initially we though Monforte to be quite a small place, but a brief exploration quickly proved otherwise and the tourist office confirmed that it has a population of about 20 000 inhabitants. Below the hill top monastery as seen from a far.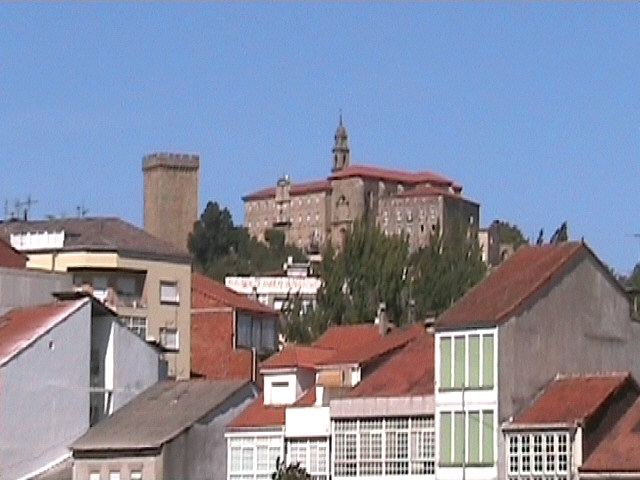 Monforte de Lemos is in Lugo province, but we traveled to it from Ourense city which is only half the distance from its provincial capitol and has a main highway, the N120, leading directly to it. Incidentally, a much narrower and older road can also take you from Ourense to Monforte de Lemos, and this route, which navigates up and down the mountains offers spectacular views. It is not however for the faint hearted and if you dislike heights (as I do), I recommend you take the N120, this option also cuts traveling time in half.
Monforte de Lemos - a brief abstract
Monforte is definitely an inland town located in the center of Galicia with no obvious connection to the sea or tourism, but it has a couple of spectacular buildings, its hill top monastery and a large college, plus some well set out and attractive municipal areas. It also boasts a medieval bridge, a spectacular summer festival, which was in full swing during our August visit, and a large museum. The alameda (main square or park shown below) is large and has well planted gardens surrounding it. This central town area is also on the flat, quite unique for Galicia.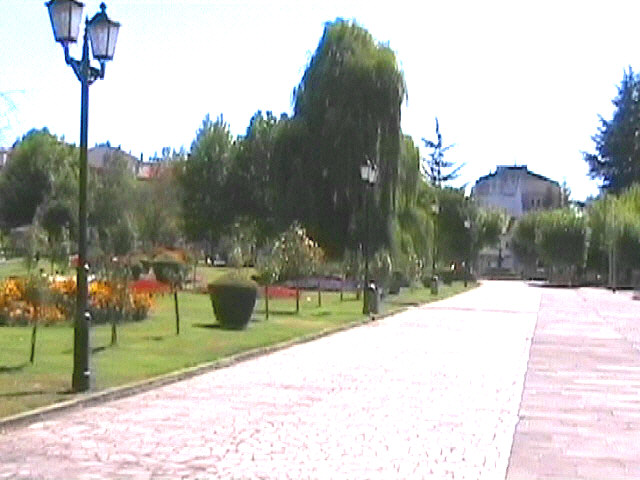 In keeping with most land bound towns, Monforte de Lemos is built around a river and the older parts of the town occur either side of the original stone bridge. There are also several street side bars, most of which are in a pedestrianised zone, and supermarkets, shops and banks are scattered throughout. The tourist office, which is adjacent to the large town square, was very helpful and although we spoke Spanish, they appeared to have some English skills. If you visit, you need to pick up the free town map which identifies and lists the features of tourist interest. Unfortunately it is in Galicia's tongue of Gallego, but you can still get the jist of what it is about and where things are.
The town of Monforte de Lemos
The main appeal of a visit to Monforte is the former monastery, now a parador, which dominates the town from on high and can be seen from some distance away as you approach by highway. Once in Monforte de Lemos you will quickly realise that the town has some pleasant, but also some less appealing areas - the latter of which we drove through as we hunted for the "main strip".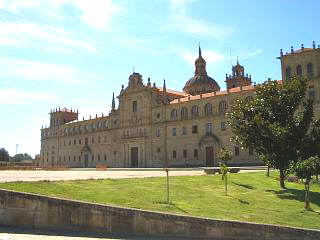 Monforte's college
As we entered the town the monastery quickly became obscured by buildings and we took what seemed like a circular route which ultimately led us to Monforte's main square or "alameda". At this point there was plenty of parking and the eye was immediately drawn to the area's massive college, "Colexio de Nosa Sra. do Antiga (Escolapios)" which sits to one side of the alameda (above left). This structure is truly massive and also highly detailed in its design. You can take a tour of the college's internal offerings at a cost of 2.4 Euros per head. We visited on a Sunday and it appeared that the tours were unavailable that day.
Monforte's alameda is large, part tiled and part gardened and on 21st August, when we were there, a large stage (no doubt for fiesta performers) occupied one end. The tourist office is a single storey building which also faces the narrow side of the alameda at the town end and the overall spectacle is quite impressive.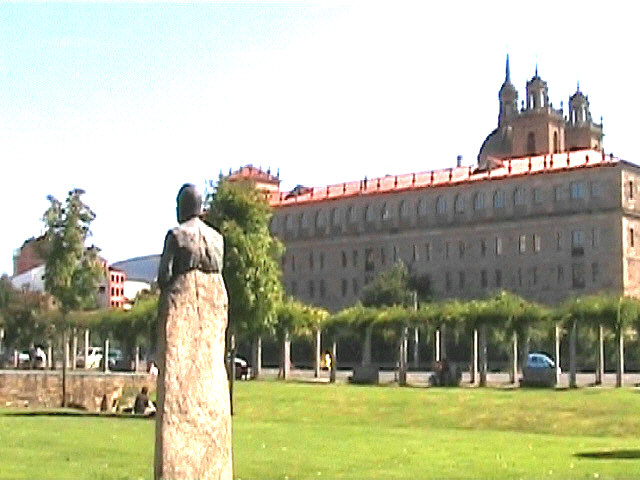 Moving away from the main plaza and heading towards the town center you pass through (or to the side of) the "Parque dos Condes". This, as the name suggests, is a park area which features a small lake, complete with bridges, and a trellised walk way from which you can reach the river and also look back to see the collegic building, as you can see in this photo.
Please click this link to continue this Monforte de Lemos tour Monforte de Lemos page 2