Rianxo, Galicia
The town of Rianxo is located in the mouth of one of the lower bays of the Galician coastline known as the "ria de Arousa". The river "Ulla", flowing from "Dodro", is set to the south of the town where it forms an estuary into the bay.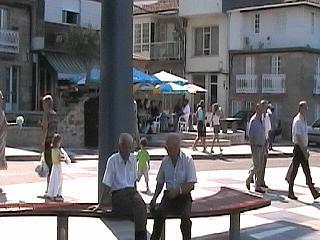 Rianxo will not appear prominently on many Galician tourist agendas, but that is an oversight as it most definitely should. It is an attractive town situated directly by the sea with a large and well stocked harbour, a quaint town center, many cafes and a relaxed atmosphere.
Above left, part of the municipal area between the town and the sea front.
Parking in Rianxo is plentiful if you head for the port area and even on the busy market day (Sunday), you will have no trouble finding a place.

Rianxo's harbour
If you start your exploration of Rianxo from the town's dock and harbour, you will quickly appreciate that this is yet another of Galicia's many port towns.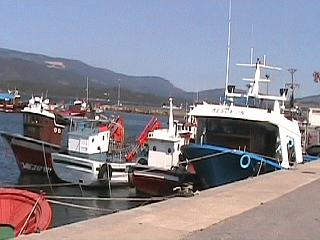 The harbour is large and has deep water allowing the mooring of boats of all sizes. Despite this, most of the fishing boats that commute to and from Rianxo pick up their catch in the "ria de Arousa" (bay) and are relatively small and more and reminiscent of the fleets that populated European harbours forty or more years ago. The other economic main stay of Rianxo is agriculture and the fertile land, irrigated by the river "Ulla", enables the growing of many different crops.
Moving away from the harbour, you will see the town in front and to the right of you and the local beach of "Tanxil" arcing its way around the coast in the distance. This beach whilst popular is never overly busy.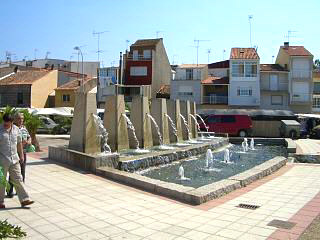 The first thing that we noticed about this coastal suburb was an infatuation with water and fountains. As you head in to town a series of interconnected water features shadow the footpath and the theme seems to continue from that point on with at least three ornamental fountains appearing on the sea facing plaza/promenade. On a Sunday it is at this far end of the town on to which the market spills with its many small stalls and stands selling everything from food to clothes.
It is also in this attractive and open area overlooking the ocean that a bust of "Daniel Alfonso Rodriguez Castelao" sits.