Sanxenxo
We first visited Sanxenxo in July 2006, mainly because it is widely regarded as the best and certainly the most exclusive and expensive beach resort in Galicia. It lies at the top of the ria de Pontevedra and, as the photographs show, has some stunning beaches.
The main beach at Sanxenxo is almost semi-circular and has white sand and crystal clear blue sea (at least on a warm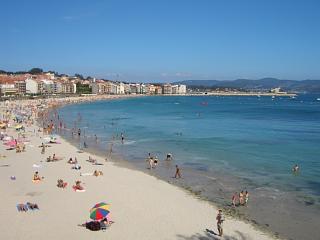 sunny day), and the buildings in the hills behind combine low rise apartments and hotels. The entire beach side area is attractive and it is clear that tourism is this town's primary source of income.
As an indication of Sanxenxo's prosperity, property prices in this town are higher than anywhere else in Galicia and although good deals could be had a few years ago those days are long since gone. Today even one and two bedroom apartments can run into many hundreds of thousands of euros if, that is, they have the right location and a good ocean facing aspect.
Sanxenxo is especially popular with the Galicians themselves and many of the apartments and nearby houses are owned by residents of Pontevedra or Vigo city only a few kilometres away. Many of these wealthy residents only travel a few kilometres each August and quite literally take their summer vacation a mere 30 minutes from their year round residence. Distances, travel durations and "getting away from everything" have a different and much smaller scale and meaning in Galicia than places like the USA and the UK.

The beach and surrounding area
The whole of Sanxenxo is spotless and the promenade area, with numerous little balconies, offers stunning views of the semi natural beach below. Its appeal to foreign tourists may however be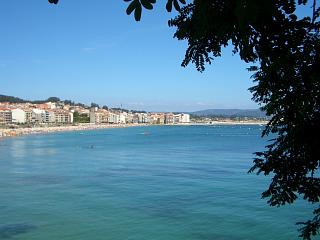 tainted by its manmade appearance. We found this beach beautiful, but whilst its sands and sea were very enticing, it was no different to many other beach resorts that you will find throughout southern Spain and beyond and, for us at least, it lacked that uniqueness to Galicia (i.e. a natural untouched look).
This is of course a personal preference, but if you like beaches backed by mountains and accessed by timber boardwalks over grassy dunes, Sanxenxo may disappoint. If on the other hand you want a beach resort in Galicia with all the trappings of modern tourism, and a genuinely stunning one at that, Sanxenxo will definitely meet, if not exceed, your requirements.
The town itself is very clean, well designed, and cosmopolitan and for anyone wanting a "sun and sand" holiday, but one away from the typical Mediterranean resorts, this location definitely delivers.

Getting to Sanxenxo
You get to Sanxenxo on the VRG-41 that connects to the AP-9 toll road. It is quickly and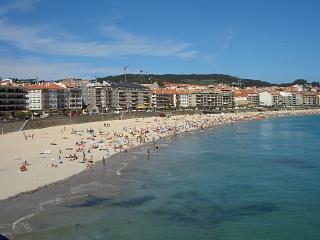 easily reached from the cities of both Pontevedra and Vigo. The greater area around the town has many other great beaches, a number of "worth exploring" towns and some excellent examples of regional heritage like monasteries and little churches.
For a selection of hotels in Sanxenxo, see this Sanxenxo hotels link. Pontevedra is also only a short distance away and may be more affordable at peak times of the year (i.e. through late July and all of August when the main Spanish holiday takes place).