Ferrol - some history
The name "el Ferrol" is probably derived from "farol" (meaning lighthouse), as the harbour had a lighthouse at its mouth. Ferrol's population is approximately eighty thousand inhabitants, but if you include the surrounding towns and villages this increases to over two hundred thousand, making the conurbation as a whole a significant population mass.
Ferrol and the ocean
Ferrol is located on the North West coast of Spain and is in Galicia's province of A Coruna. Ferrol's importance has much to do with its maritime exploits.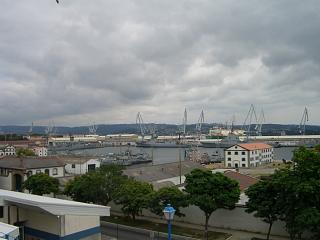 It is positioned in one of the inlets or rias of the Atlantic Ocean giving it strategic significance for the launching and porting of vessels. Although now a port city, Ferrol originally started life as an iron age settlement.
Left, the Naval port of Ferrol which is more practical than picturesque.
Ferrol certainly has less notoriety than either of the province's nearby cities of Santiago de Compostela and A Coruna, but it has had a Naval base since 1726 and has ship building yards (in particular the Navantia shipbuilding yard) that pre-date that.

An interesting fact
Ferrol was the birth place of Spain's one time ruler, General Franco, but it has had important historic connections for much longer. Spain's first academy of Naval Engineers was formed there in 1772 and the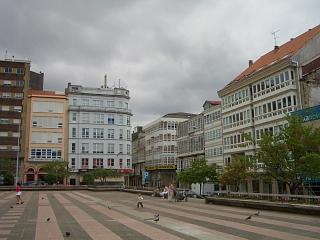 city gained a reputation for been a coastal stronghold that invaders could not overcome. Ferrol also had a series of fortified structures on the perimeter of its bay and some of them remain today.
Right, the main square (or la alameda) at Ferrol city.
Like most cities Ferrol has enjoyed good times and bad and the worse of those probably came at the turn of the nineteenth century. In around 1800 an attack by Spain's then adversary Britain was narrowly defeated, but within a further ten years the French had successfully invaded Ferrol and the city lost its status and economy.
The bad times continued for much of the first half of that century, but gradually Ferrol's ship building capabilities brought them back to the fore and investment, by companies from their former enemy Britain, resulted in major works taking place in Ferrol again. A little known fact is that many of the engineers working on the docks of Ferrol at that time were in fact English.