Ferrol, Galicia
Getting to Ferrol from major cities like Pontevedra or Vigo takes you on the AP9 toll road which also connects through Santiago de Compostela and la Coruna.
The trip takes about 1 hour from Santiago and 30 minutes from la Coruna. You need to allow a good two hours from the cities in Pontevedra province and more from Ourense. As the toll road reaches the city, it loops dramatically around the Ferrol ria (bay), but in truth this is as exciting as a visit to Ferrol actually gets.
As a tourist center Ferrol has little to offer. It is slightly disappointing to walk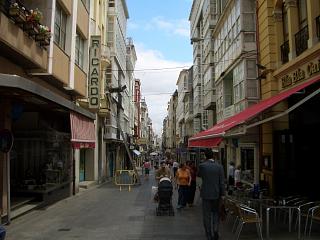 around and all but the central part of the town is light industrial with no real old quarter or medieval district. Ferrol does have a large naval port which may interest some, and several battle ships were in the harbour during our visit, but these ships can only be viewed from a distance.
The main town has poor views of sea, even from the elevated areas near a state run parador and there is no beach within walking distance. Beaches do however surround the city and many are very good (more information below).
The Town hall and alameda (main square) are comparatively unimpressive by Galician standards and they set a slightly disappointing tone for the rest of the city. History and architecture also have little visible impact on the buildings in Ferrol and the geometrically organised street system sees all roads monotonously running at 90 degrees to one another.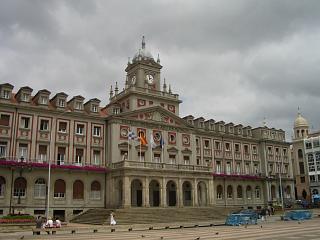 It is easy to navigate and find your way around Ferrol, but then again there is a limited amount to see or look at once you are there. To add to our despondency, parking was near impossible and the reward at the end of it was a lack lustre walk around what is a perfectly acceptable city, but one that should not really be on anyone's "A1" tourist itinerary.
The city's tourist office was naturally closed when we arrived at around 1.45pm and remained that way during our relatively short visit.

Things to see if you visit Ferrol
The Basilica and a church behind the city's parador were the only interesting architectural features and what should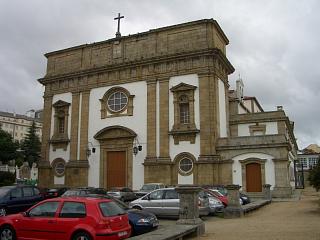 have been an attractive plaza close to these building was, although busy, a victim of graffiti, an ever increasing problem in Galicia.
Ferrol appears to have an impressive bay and port along with some good beaches including those of "San Jorge&quot, "Cabanas" and "Cobas". It also has the Castillo de San Felipe coastal fort at the opening to the bay which tourists can visit. This fort is similar to, but significantly larger than, the one at Santa Cruz, a little further down the coast and we would certainly recommend it. A further castle in the Ferrol district is the Castillo de Nogueirosa. This has a large "Keep" and high walls.
Monumental buildings in Ferrol are certainly limited and, in our view, probably absent altogether. The main council office, occupying the "Plaza del Ayuntamiento", isprobably as close as you will get to a palatial building, but we found it decidedly unispiring.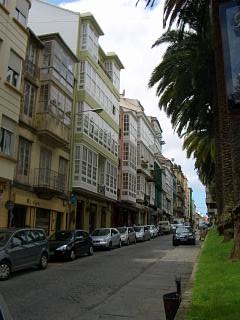 Summary
In short Ferrol has nothing wrong with it. It is a modern working Galician city and one that prospers quite happily without tourism and, based on our experience, this is unlikely to change.
If you are in la Coruna province there are a number of interesting, attractive and history laden towns that you can visit, but regrettably Ferrol is not one of them. It is however ideally located if you are looking for an accommodation base.