The traditional music of Galicia
Undoubtedly one of the biggest cultural differences between the Galicians and the other inhabitants of Spain is the traditional music and dancing that feature so extensively in festivals and celebrations. As with everything else, the Galicians have there own way of doing things and their music, with its strong Celtic connections, is a prime example.
The "Gaita Galega" or Bagpipes
The bagpipes, which the Galicians call "gaita galega", can be traced back to the middle ages (as far back as the 13th and 14th centuries), and are a staple instrument in all of the regions fiestas.
Although similar to the bagpipes found in Scotland and Ireland, there are some subtle differences. Firstly, there are two versions of the "gaita", one with a conventional "mouth" blown bag and the other (now much less common) using a "bellow pump" type action.
The "drones" (which produce the sound) are also different in type and number to their British and Irish counterparts, as are the ways in which the pipes are carried and displayed. Typically, Galician "gaitas" have only three drones. Another, quite obvious visual dissimilarity is in the colour and pattern of the fabric, which reflects the colours of Celtic Galicia.
Bands
Musically these instruments are played in small bands or ensembles, usually comprising two pipers and two drummers, one a tenor and the other a bass. The music is also mobile, with the musicians marching through a town or village, often at around 10.00 am in the morning (if it is a festival) and then on the hour or bi-hour there after, just as shown in the image below.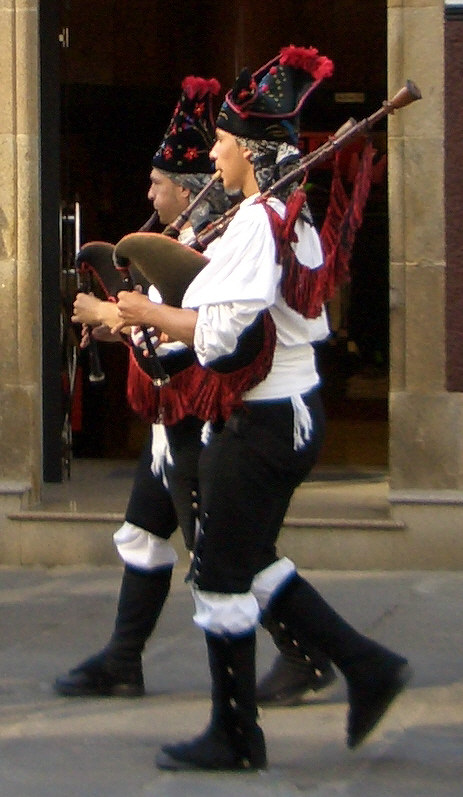 The music is definitely an acquired taste, but having said that is also quite atmospheric. As a rule of thumb, at fiesta time at least, the band is also supplemented by the addition of dancers, fireworks (which are very loud), and a man who leads the procession and periodically shouts things out – although I don't know what it is he says.
If you want to see and hear these instruments, then a festival or public performance is the best option. Melody wise, the sound they make (and the tunes they play) sound pretty similar to those of Celtic and Gailec British pipers, but with a slightly faster and more up-tempo pace.
Personally, my strongest memory of "gaita galega" is being woken up by them at 10.00am in the morning, having not got to bed untill 4.00am the same morning (I was at a festival), and therefore I have a slighly tainted and unfavourable view of them.
Celtic music festival
In Lorient, Brittany, there is an annual Celtic festival whose purpose it is to celebrate everything Celtic. Galician bagpipers and dancers participate in this event every year demonstrating their gaitas and Celtic style "step dancing".
You can find out more about festivals by looking at the Galicia town and city pages for the location that interests you.