Galicia's Poets Corner
Responding to a request, we have created this poets corner for poems or prose about Galicia, or authored by someone with a connection to Galicia.
If you would like any of your work to appear here, please email us via the contact page (the link is in the yellow bar at the head of all our pages). Further poems (in Spanish) can also be found in our Spanish language section.
---
Below. a poem for Valentines day
---




Writing to Susan, on valentines day
By Segundo Ramos
I am writing on high seas, suffering from love

still on my mind, when we crossed the fields

full of April flowers, your soft skin,

kissed by the sun, of the month of May

the long undulated hair, like a waterfall

touching the curves and valleys

of your mermaid's body



I am used to feel, free as a bird, when at sea

but now thinking of you, feels like a narrow cell

on this day of San Valentine's

no longer feeling free, for this mariner

wished that I was waiting at the altar

been sentenced, by God and society

to a lifetime, of house arrest

by the chain, of your lips

and the lock, of your embracing arms.
---




GALICIA INGLESA
By Segundo Ramos
Galicia is where I was born
Galicia is my beginnings

A land of lavish green meadows
And nightingales singing

Galicia is in my heart and soul
My tears and my emotions

Land of world's best mariners
That battle each day
With unfriendly seas
And ragged coasts of dead

Of unspoiled beauty
And richness beyond compare

Bridge to new found world
Lighthouses of hope
Sculpturing the stony coasts
Rivers of symphonic currents
Widening clear waters
That is music to the soul

Is a farming paradise
Since time begun

Is leafed filled forests
Pilgrims rest and glory
Santiago on the horizon
Golden tears of emotion

Cathedral of Spanish Patron
Treasure to humanity
Mastery of Mateo skill
Jewell to the faith
Where rain, is an art
And art is a way of life
Galicia.
Celtic is your soul
Pagan your believes
So is your folklore
Warmth filled people
Home made wine
Warm blood a body
Your are mother land
Home pride and family



About the author
This prose was kindly sent to us by Segundo Ramos, a native and resident of Galicia, who has generously translated some of his poetry into English for us.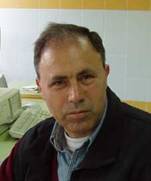 Extracts from some of his poetry have been published in Spanish national newspapers and work by Segundo Ramos can be found through various Spanish language sources.
If you would like further information about his work, please contact us and we will pass your details on to him. Further poems, both in his native tongue and in English, can be found in links at the bottom of this page and in our Spanish language section, reached from the home page.

---
You can read further poems by Segundo Ramos by clicking these links:
Dawn by the sea of Noia
An idle poet