Buildings and features of Padron
Espolon Promenade
Although important, the Saint James connection with Padron is only one of the town's many tourist "honey pots".
Padron's famous Sunday market, on the "Espolon Promenade", is the largest and most popular in Galicia and is sited on a large rectangular tree covered park area adjacent to the river "Ulla". This promenade also houses statues of two of the town's most prominent and well known citizens, "Camilo Jose Cela" and "Rosalia de Castro". Above, the trees and river that mark one side of the "Espolon Promenade"in old Padron.

Camilo Jose Cela Foundation
Camilo Jose Cela was awarded the Nobel prize for literature and there is a large museum called the "Camilo Jose Cela Foundation" in Iria Flavia (his birth place) which you can visit through a guided tour.
Below, a statue of Cela on the "Espolon Promenade".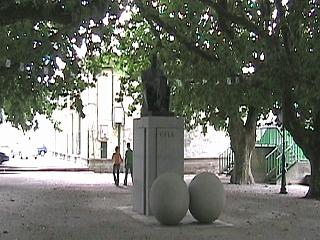 The museum is in a long narrow building and among its exhibits are, an archive of Cela's papers and works, over 40 000 books by 9 000 different authors, 700 paintings by artists as diverse as "Picasso", "Miro" and "Moquera", manuscripts by authors such as "Pio Baroja" and "Ramon Otero Pyo" and some "diverse" art including a collection of signed bottles. The foundation also houses trains and associated memorabilia. There is a charge for entry and you cannot wonder around independently, you must go on the tour.There is no physical division between Padron town and Iria Flavia and you can pass from one to the other on foot in five minutes.

Santa Maria Collegiate church of Iria Flavia
Immediately across the road from the Cela museum is the famous Santa Maria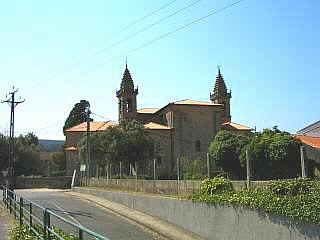 Collegiate church of Iria Flavia (below) which was constructed in the seventeenth century. This church is known for its medieval porch and also for some gothic elements in its design. Unfortunately, I have to confess that at the time that I photographed it, I did not know this and consequently I took shots of the other (and in my opinion more appealing) side. The church also has the remains of Archbishop "Rodrigo de Luna" within it and was the original burial ground of Rosalia de Castro. Her remains were later removed and re-sited.

Carmo monastery
Moving back into the older district of Padron, there is a convent, the "Carmo monastery"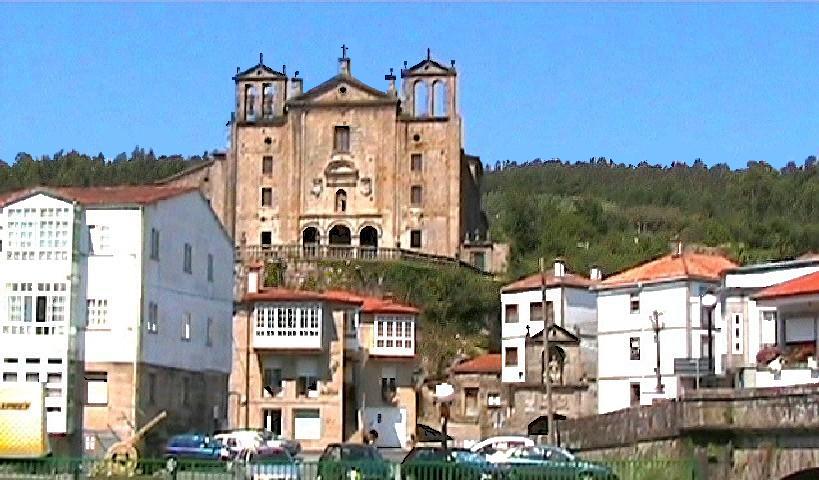 that sits a short distance away from the parish church overlooking the river Ulla that is both attractive to look at and also offers views looking back down at the town and the "Mahia valley".
There is also an old, but highly elaborate stone fountain (Carmelite fountain) just below this convent which again boasts a link with St.James. He was said to have taken water from this point. Above a photo of the convent which belonged to the Carmelite order and later became a pilgrim refuge.
The convent, fountain, parish church and "Espolon Promenade" where the market is held, are all within one hundred metres of each another and are separated by the towns old medieval bridge which you will cross if you approach Padron from the country.
Two other historic icons include Padron's town hall, the "Fondo de la Vila plaza" and the house of "Rosalia Castro", which is the now a museum and one of the most visited tourist attractions in Galicia.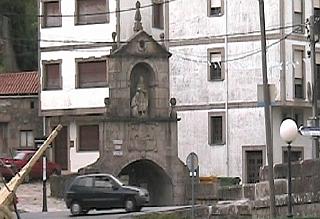 To the right is a photo of the Carmelite fountain below the convent and close to the bridge in Padron old town.
If you want something a little bit less exertive, then a walk around Padron's botanical gardens may be to your taste. These gardens were awarded Spain's National Artistic Monument status in 1946 and are located just off the main road that runs through Padron. The local tourist office is also a short distance just down the road from this park.

If you want to explore a little bit further a field, then another suggestion is to drive out to the nearby Franciscan monastery (see below).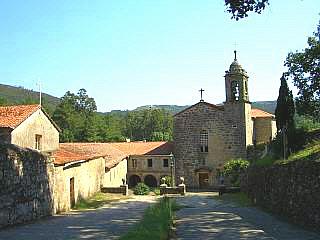 Convents and monasteries are a constant feature of many a Galician towns and this one is bigger than most. As a note of caution, in keeping with all churches, museums and other tourist attractions, you need to visit outside the siesta period and ideally in the morning or early evening. Access is also limited to specific areas. It is 15 to 20 minutes from Padron.