Padron Galicia
Padron is a town with great religious and historic significance and it has also been the birthplace of some of Galicia's most famous and celebrated citizens, most notably Rosalia de Castro. It has churches, museums, the largest open air market in Galicia and two artifacts with connections to the apostle Saint James and Santiago de Compostela.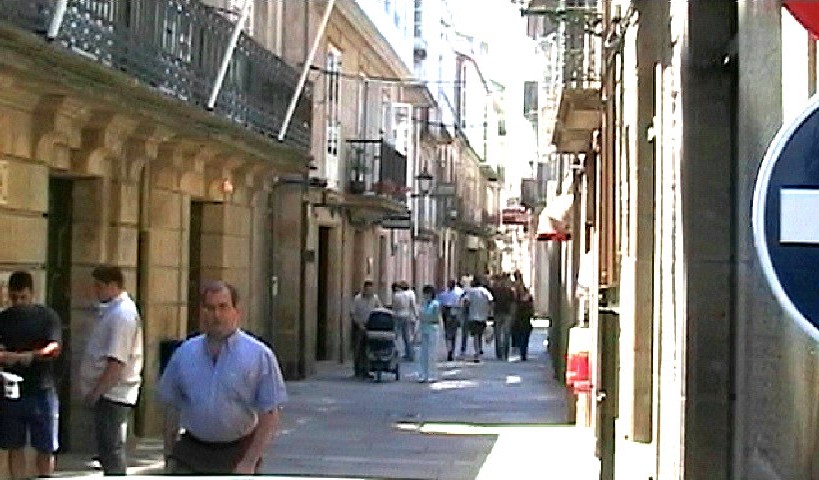 In order to do Padron and the surrounding area justice, we now have nine pages describing its history, fiestas, tourist attractions and of course the famous pimientos de Padron (little green fried peppers) for which the town is nationally known.
You can select from these and other topics about the town by using the index buttons in the menu bar to the right.
Left, a typical narrow street in the old district.

A fitting location
Padron is positioned at the end of the tidal stretch of the river "Ulla" and merges into the once famous town of "Iria Flavia", a center for trade, religion and culture throughout Galicia's Roman and medieval history.
It is located in the "A Coruna" district and nearby towns include, "Dodro" and "Rianxo". The main highway routes to Santiago de Compostela, Vigo and A Coruna city (C550, A9 and E1) all pass close by.
Picking the town's main claim to fame is difficult because there are so many. Originally, it was not Padron, but the old settlement of "Iria Flavia" that was the key community in this area and during Roman and Viking times it was the target for many attempted invasions. But Padron grew in importance and its connections with St. James are perhaps the main reason why so many tourists choose to visit it today.
Over recent centuries the rise of Santiago de Compostela has some what diminished the status of Padron as one of Galicia's primary urbanizations. But as a tourist center it still has a lot to offer and is rich in history, buildings and folk law. It is one of those towns that you can visit for an hour or two, or easily spend a day in (and around) if you choose to stop at its two museums and delve in to its history.
Key sight seeing attractions include
The church of Santiago which contains the "Pedron" stone under its alter.
The "Carmo" monastery and "Carmelite" fountain, both of which are within a hundred metres of each other.
The former house and now museum of Rosalia de Castro which offers guided tours (although only in Spanish).
The Collegiate Church of Iria Flavia with a famous portico.

The Camilo Jose Cela foundation (museum) with extensive collections of written and painted art.

Santiaguino mount (where the saint James is said to have preached to his flock in biblical times).
The "Espolon Promenade" (if you happen to be in Padron on market day).
Herbon (a district of Padron) where the pimientos fiesta takes place in August.
For more details of these sights, check the menu buttons to the right.