Padron Guide part 2
A couple of other Padron highlights
Although no genuine sign of it now remains, Padron was, along with its neighbouring town of "Iria Flavia", one of the largest and most successfull settlements during Roman and pre-Roman times. From that period onwards Padron has not so much declined but, as with many other towns in Galicia, seen the rise of Santiago de Compostela "dampen" its aspirations.
If you like buildings, monuments and interesting events, Padron certainly has a few and a couple that might be of interest are as follows.
The "Espolon Promenade" runs parallel with the river that bisects Padron and its broad sand based corridors are the scene of Galicia's largest and most active market every Sunday. If you want to barter, or simply look around a genuine market that has barely changed over the centuries, then this is a must.
The "Carmen convent" is another of Padrons highlights, although it is the view of the "Mahia valley" as much as the convent itself that makes the visit worth while.
Other historic icons include Padron's town hall, the "Fondo de la Vila plaza" and the house of "Rosalia Castro", which is apparently among the most visited museums in Galicia.
If you want something a little bit less excurtive, then a walk around Padron's botanical gardens may be to your taste. These gardens were awarded Spain's National Artistic Monument status in 1946.
A final suggestion is the nearby Fransciscan monastery which appears to be a constant feature of many a Galician town.
Padron's festivals
Padrons biggest festival is held on Easter Sunday and the Sunday there after and is called "Pascuilla".
In May there is the festival of "San Juan del Rayo".
July has the "Santiaguino del Monte" pilgrimage.
In August the "pepper" festival is takes place in "Herbon" and this fiesta is particular to this parish and the famous peppers that it produces.
The last significant festival is the "feast of San Isidro Labrador" which is again about food - this time the omelette and it is held in "Carcacia".
Our Padron snack tip
Keeping the food theme going, if you visit Padron and feel like a snack, there is a large tree covered area adjacent to the tidal river in the older part of town. (It is under the trees to the right in the river shot on the first page of this Padron guide.)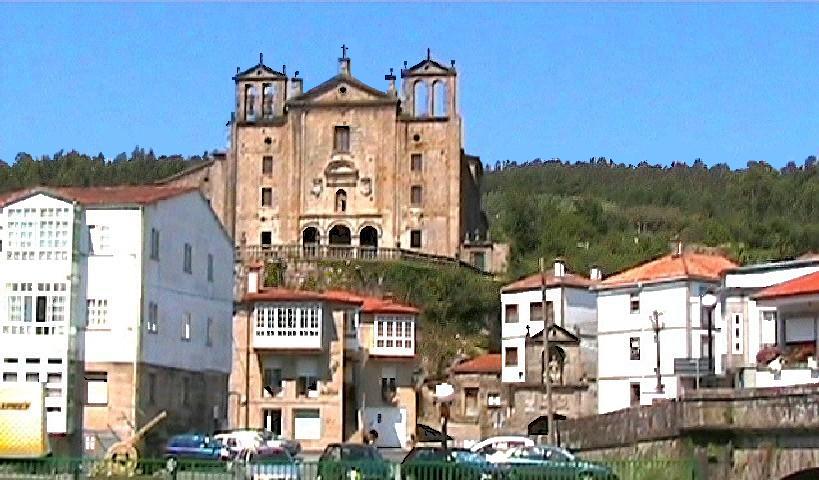 If you follow the parade of shops running parallel with, and under, these trees, you will spot Padron's old bridge to your left (see photo right). On your right however is a small bar with chairs under the trees opposite. This bar offers all kinds of snacks and beverages, but also has a fantastic selection of multi flavoured ice creams, served in glass dishes with nuts, fruit, or pretty much whatever you want. We always tip, and at this bar in particular they seemed elated at the couple of Euros we gave them. When we called in again the following week they remembered us and produced two ice creams to our own specifications - thats the way to get return business!
If you want something more substantial, or just some tapas, then don't forget to try the Pimientos de Padron – apparently they do taste better if you eat them in Padron itself.
Famous citizens of Padron
Just a bit of trivia to fill the page up!
Padron was the home or birth place of several famous Spanish and Galician writers.
Camilo Jose Cela was awarded a Nobel prize for literature, "Rosalia de Castro" was a poet and writer who remains popular and famous today, whilst other masters of the written word include "Macias el Enamorado" and "juan Rodriguez de la Camara".
If you want more information on any of them you will need to source it yourself!
Padron Guide part 1 To return to page 1 of this guide to Padron, click on the yellow link.