Padron's festivals and peppers!
What else does Padron have to offer?
Padron is surrounded by spectacular countryside and many of the small towns close by are worth a visit. Herbon, the distric famous for the pimientos de Padron, is about 2km from the center of town.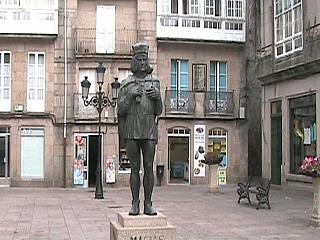 If you want to eat while you are in Padron, then there are many good bars and cafes in the older part of town and prices are fairly low. The newer districts of Padron are not however so appealing and tend to be at the far side of town to the Santiago church, bridge and market square described previously. This photo just illustrates one of the many little squares in and around Padron. Small statues, like the one in shot, seem to be everywhere.
Pimientos de Padron
In addition to its history and celebrated citizens, Padron is also famous throughout Spain for a particular gastronomic specialty called "pimientos de Padron" (lit. pepper of Padron). These peppers are so famous and so particular to Padron that they even have their own special fiesta. (For a full description of this event see this pimientos fiesta in Herbon page.
In summary, Pimientos de Padron are small chili peppers from Herbon (in Padron) that are fried and eaten as tapas.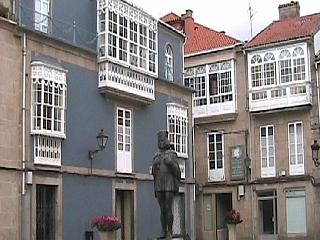 Similarly prepared peppers are sometimes known as "Russian Roulette" in British and American restaurants, but the unique tasting ones from Padron are a big favourite in Spain and can be quite expensive outside of Galicia. If you decide to try this local specialty and are initially surprised by their mild taste, beware, the idea is that only the occasional pepper is really hot and it hits you when you are least expecting it. By the way, if you have tried similar chili peppers outside Spain and have not been impressed, those from Padron really do have a different taste.
Other famous citizens of Padron
In addition to Camilo Jose Cela and Rosalia de Castro, other masters of the written word originating from Padron include "Macias el Enamorado" and "juan Rodriguez de la Camara".
Padron's festivals
Padrons biggest festival is held on Easter Sunday and the Sunday there after and is called "Pascuilla".
In May there is the festival of "San Juan del Rayo".
July has the "Santiaguino del Monte" pilgrimage.
In August the "pepper" festival is takes place in "Herbon" and this fiesta is particular to this parish and the famous peppers that it produces.
The last significant festival is the "feast of San Isidro Labrador" which is again about food - this time the omelette and it is held in "Carcacia".