Basque Country
The Basque Country is one of Spain's autonomous regions and sits to the east of Asturias.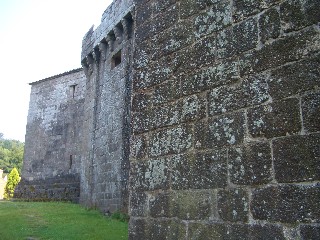 Officially (within the Spanish constitution) it comprises the three provinces of Araba (provincial capital of Vitoria Gasteiz), Bizkaia (provincial capital of Bilbao) and Gipuzkoa (provincial capital of Donostia), all within Spain. There are however many arguments about the definition of this region and the neighbouring region of Navarre and some further provinces in France are also called the Basque country when taking an alternate approach to defining the area.
The Basque region of Spain has a population of over two million inhabitants with a further one quarter of a million people living in the Basque provinces of France. Like Galicia, many Basques left Spain to live in South America and Argentina is a particular hot spot. Few ventured to the UK.
Tourism and the Basque region
Politically the Basque region is arguably Spain's most unsettled with a strong separatist movement including a small but volatile terrorist organisation (ETA). Economically the Basque region is prosperous, but overseas tourism is not a major contributor and few English speakers visit this region, mainly because of its association with terrorism and its perceived hostility to foreigners. Unlike Galicia, the Basque region also lacks any serious government sponsored tourism organisations like turgalicia and information about the region is hard to find in English, particularly in relation to tourism and sightseeing.
The industrial image of this region is however changing and there is no question that, like the other northern Spanish territories, the Basque region has a great deal to offer the discerning traveller who wants to experience undiluted Spain. The Basque lands have the snow capped mountainous scenery of Urkiola, popular with hikers and walkers, one of Europe's largest forests, as well as spectacular examples of civic architecture like the town hall of Bilbao and the cathedral at Vitoria. The region has a number of important cities and many towns as well as geographical features like rock caves, marshes, and open plains.
Like every region of Spain (and almost everywhere else for that matter), the Basque country claims a unique and superior cuisine based on simple cooking and fresh ingredients. It also offers up its cultural heritage and variable history as further enticements to its visitors. What the area undoubtedly does possess is something for the adventurous vacationer who wants to escape the obvious images of commercialised tourism. Even the official website for the capital city of Bilbao has a relatively un-commercial look to it with an approach based upon telling you about, rather than promoting, itself.
For a brief summary of the major cities of the Basque country, see the button in the right hand menu bar titled Basque cities
For more information on the Basque Country and Bilbao, take a look at this link, basquecountry-tourism.com