Muros Galicia 3
The narrow colonnaded streets of Muros have been described on page 2 of this Muros guide,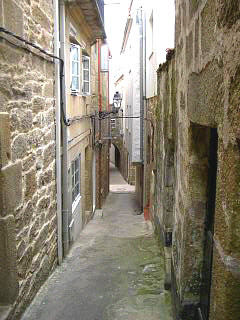 but here are a couple of shots that give you a truer indication of how narrow and atmospheric they can get. To make matters worse, some of them drop from level to level using narrow stone flights of stairs where the risers are twice the dimension of the tread and the angle of the stair is less than 30 degrees from the vertical.
If the thought of climbing these stairways puts you off, fear not, there are many slopes and less challenging steps that you can use as an alternative and all the shops, bars and other places of interest are located on the wider pathways.
One plus, is that these claustrophobic alleys do manage to stay quite cool, even on a hot summers day.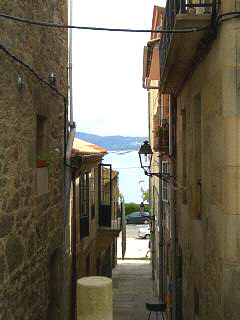 To the right is another of the narrower and more enclosed colonnades. This one manages to navigate its way along almost the full height of Muros's old town as it crawls its way up the steep slope. Looking back, as it does in the photograph, you have a slit like view of the bay and the land mass on the opposite side of the ria.
As you can probably tell from these pages, we really like Muros and make a point of visiting it at least once on each of our Galicia trips. It has atmosphere, heritage, culture and some not too intrusive concessions to tourism - I just hope it stays that way for a little bit longer.

Muros and Louro fiestas
Muros and its neighbouring town of Louro have several fiestas (festivals) taking place at various times throughout the year, but the main ones are listed below.
The feast of San Pedro is the biggest annual festival in Muros. San Pedro (Saint Peter) is the patron saint of Muros and the main festival consequently takes place on St. Peters day in June.
July hosts the fiesta of the Virgin del Carmen who is the Patron Saint of fishermen.

This festival is celebrated in other neighbouring port towns and has a greater religious meaning and symbolic status than some of the more openly celebratory fiestas. My wife's father, who initially worked on the fishing vessels, attended mass in Noia on both days of this festival (2005) as a mark of respect for those who have lost their lives at sea or whilst working in the fishing industry - one of those being his brother-in-law, Juan. This fiesta also involves a procession at sea as a memorial to those who died there.

Louro another town close to, and associated with, Muros also celebrates the Virgin del Carmen, but centers its festivities around the month of August.
Two other celebrations in Louro, also in the month of August, are, the fiesta of the Virgin del

Camino

(which is a path or route - often taken on a pilgrimage) and the fiestas of San Roque.
Louro
Louro is in the parish or district immediately adjacent to Muros and is certainly worth a visit if you are planning on exploring this area.
Whilst Louro does not have the bars or meandering and colonnaded streets of Muros, it does have some excellent beaches - something Muros sadly lacks and, furthermore, it is only a few minutes away from the center of Muros.
Although the stretches of white sand are Louro's main claim to fame, it also has some historic relics, not least of which is its fourteenth century Franciscan monastery. Although the monastery is still occupied by monks today, one section of it is let out as holiday accommodation and offers an alternative to the more usual hotel!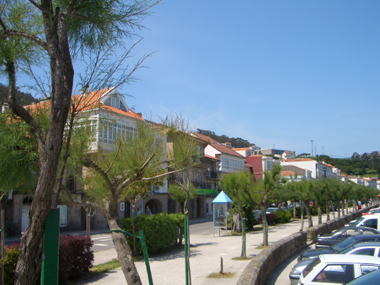 Extra photo
Since I still have a little bit of space to fill, I thought I would give you one final shot of Muros.
This is part of the path or promenade that runs between the bay and also the harbour area and the town itself.

For details of the history and buildings of Muros, click on this link
Muros guide 2