Camino de Santiago (Way of St. James) - Main page
This is our portal page to the Camino de Santiago, or Way of Saint James' pilgrimage,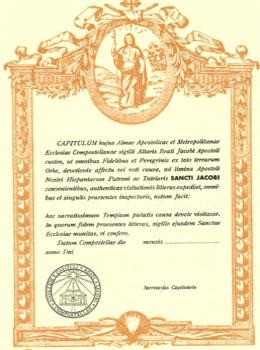 that runs on numerous routes through Spain, France and Portugal to its final destination of Santiago de Compostela cathedral.
Scroll down for a full list of the pages in this section.
This section comprises over 100 pages of information about the Camino de Santiago, the bulk of which will take you along the famous French Way on a stage by stage basis.
Each of these 33 separate stages has its own page(s), all linked to from the sectional index in the right hand column and this 40,000 word section is the biggest single addition to Galicia Guide since 2007.
The French Way commences at Saint Jean Pied-de-Port in France and reaches its conclusion at the famed Cathedral of Santiago de Compostela, said to be the final resting place of the apostle St. James. Along this journey any modern day pilgrim will visit a host of interesting, historical and note-worthy points that have significance from a cultural, religious and sightseeing perspective. All are described in our French Way, stage by stage, Camino guide.

How to use this Camino section
Our main Camino de Santiago (St James pilgrimage or Way of Saint James) index will appear in the menu running down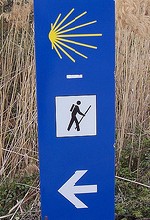 the right hand column of all pages in this section. Additionally, there are numerous links embedded in the text that will take you to further pages that may continue the description of a particular stage, or provide further information about towns, locations or monuments that are described along the route.
Information about the city of Santiago de Compostela and its famous cathedral will be linked to from both this section and the main Santiago section (a button link to this section appears in the main website's left hand menu – present on all pages).
Additionally, you can also use the search box on this page to hunt for or track down specific information based on key words. Below is a complete list of all of the main pages in our Camino de Santiago section.

Full listing of Camino related pages
Acknowledgements
All of the stages of the French Way, plus many related pages within this Camino section have been researched, collated and formatted by Maria del Pilar Ramos. This new section has taken her over two years to complete and offers, we hope, the most complete guide available to walking the French Way.
If you would like to send us any feedback or additional information that we can include in this section, please email us at camino@galiciaguide.com. We are always interested to hear from our readers.