A Pobra do Caraminal seafood fiesta - Sabores da ria
As anyone familiar with Galicia will know, the region is famed for its seafood and numerous fiestas celebrate everything from a particular crustacean to the fruits of the sea as a whole.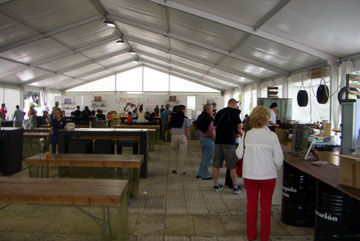 The August fiesta in a Pobra do Cariminal falls into the latter category.
The festival, titled Sabores da ria, runs over the course of the second weekend in August (e.g. 7 to 10 August in 2014) and is situated in the large paved plaza that backs on to the alameda. The event lasts four days and starts after the afternoon siesta on day one. It continues well into the evening.
Right, this is the inside of the main pavilion very early in the procedings, however a cooking demonstration was already under way.
As far as we could tell, all of the events seemed to take place in a very large pavilion and entry was free. Inside at the far end of the pavilion there was a fully equipped chef's kitchen that created a small stage area where professional chefs were giving culinary demonstrations throughout the day. Samples of the dishes prepared were also being offered to those watching. All of the dishes were seafood or Galician cuisine inspired.

The rest of the pavilion area comprised of tables and chairs for those visiting the fiesta to sit (and eat) on.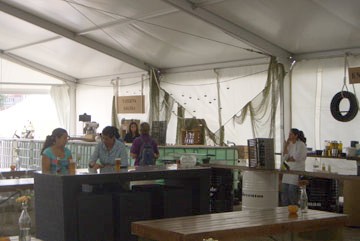 Running around the perimeter of the pavilion were numerous small kitchen stations, each offering a different type of food, e.g. pulpo, pimientos de Padron, calamares etc. There was also a bar.
Left, you can see two of the food stands, not yet serving, and a couple of early arrivals having a drink.
For those wanting food, you needed to buy a ticket as you entered the pavilion. The tickets were colour coded for different dishes and once purchased you went to the food station of your choice, surrendered your ticket(s) and were given the dish that you had selected. When we were there things were only just starting off, but no doubt the event got considerably busier as the festival got under way.
On the first day at least, I was slightly surprised that the rest of the town did not appear to be involved in the fiesta. Normally these fiestas see the whole town playing a role with events, displays and demonstrations taking place throughout the town. On this occasion it seems that it was decided to house the entire event in a single location.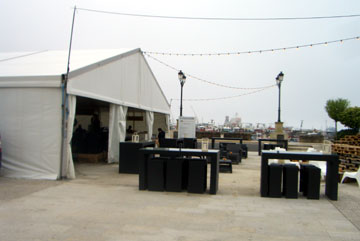 Regrettably, we were unsure of the start time for the fiesta and as such we had already eaten. Additionally we seemed to be there very early in the proceedings and this meant that we never got to sample any of the food.
Right, the pavilion from the outside. There was a stack of tables and chair that had yet to be set up in front of the pavilion.