Porto do Son
Porto do Son is a coastal municipality on the western side of "Sierra de Barbanza" (mountain range) and overlooks the "Ria de Muros y Noia" (bay of Muros). The Porto do Son municipality is approximately 23km long by 6km wide and is around 45km from Santiago de Compostela.
Please note: This page is a portal to several more specific guides to the Porto do Son area and its many attractions. Each of these guides can be reached by selecting one of the yellow links at the bottom of this page.
Porto do Son - A bit of everything
For the tourist looking for beauty and beaches the Porto do Son stretch of coast is a must. One of its main towns, Porto Sin, attracts many visitors, particularly to its Nautical club which has tranformed this seaside region into one of the most important ports in Galicia for water related sports and activities.
It also attracts people wishing to see a genuine Galician working fishing village, again in the form of "Porto Sin's" original old town.
If you like your panoramic views, then a trip to "A Atalaia" and "Fonforron" will afford spectacular vistas of Galicia's rouged and beach scattered Atlantic coastline.
Below, the harbour at the coastal town of "Porto Sin" (within the "Porto do Son" conurbation) on the mouth of the Muros-Noia bay with the private yacht club and Marina to the right (July 2002).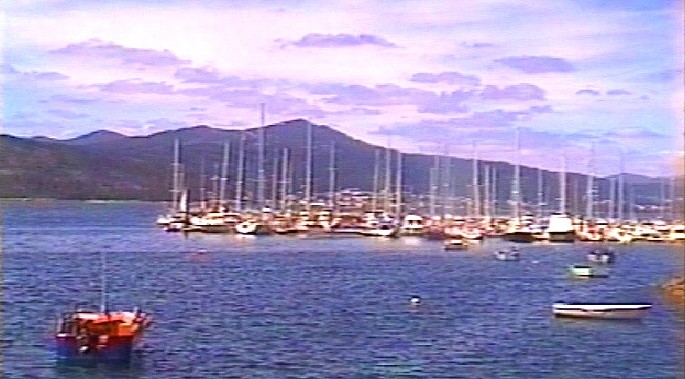 The geography of Porto do Son
The population of Porto do Son is around 11000, but this is spread throughout many small villages scattered along the coast. These include, Xuno, Barona, Queiruga, Goians, Nebre, Ribasiera, Minorto, Noal and many more. Beaches in the Porto do Son area include, Aguieire, Subigrexas, Arealonga, Caaveiro and Fonforron, to name but a few.
A couple of highlights
In "Xuno" you will see a picturesque part of the Galician country still featuring living echoes of its past including a Roman bridge and old settlement.
In "Barona" the remains of an ancient Celtic tribal dwelling can still be seen, now preserved for visitors, but the overwhelming impression of this region is shaped by the scenic views. Yellow-white beaches are constantly overlooked by forests of pine and eucalyptus, climbing their way up mountainous slopes and nature, in its truest sense, really does abound.
Additional content will be added continually.
Porto do Son link portal
Below are some internal links to more galiciaguide pages describing the Porto do Son municipality and its attractions to the tourist.
The Castro of Barona is made up of the ruins of an ancient Celtic hillfort. It is free to visit, but requires a bit of excersize. To find out more, hit the link.
The Castro of Barona 2 Some history and detail about this monument of Galician history.
Porto do Son fiestas Select the text to the left to find out about some of this principalities many festivals, fiestas and celebrations. These fiestas take place throughout the year, so there is a good chance that you can catch one, irrespective of when you visit this region.
Porto Beaches A list of some of the popular beaches along the Porto do Son coast.