Porto do Son Beaches
Extending, as it does, over 23km along the southern swathe of the "ria de Muros y Noia", the municipality of Porto do Son has more than its fair share of beaches.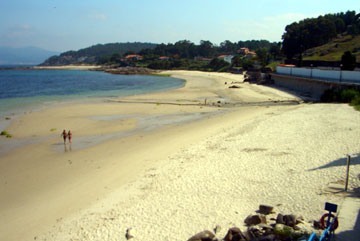 In fact it would not be an exaggeration to say that the beaches and coves of Porto do Son quite literally litter this part of the coastline.
So, in order to do them some justice, here is a brief list-come-guide to the beaches you can visit. All can be reach from, or just off, the main C550 coastal highway. You will also spot on any signs in the area that the names of beaches are usually pre-fixed by the words "la praia de" meaning "the beach of" in Gallego.
Queiruga

This is one of our favourites and it is also pretty close to the "Castro de Barona". It is around a mile long, faces open sea and has good waves, but with a strong under-current when the tide is in. Parking is close to the beach and the sand is yellow white. It is always nearly deserted.


Area Longa

This is the next beach along the coast from Queiruga and it is very popular with surfers and has a renown surf club attached to it.

Left "Area Longa" beach, as seen from the "Castro de Barona" heritage site.

Area Longa is also a nudist beach and is frequented by the younger set (especially students) during the main August holidays. Its drawback is access. It cannot be reached by car and requires a walk of around 1km there and back.


Ornanda

One of the most popular beaches in Porto do Son and located within the more sheltered part of the ria (bay). This beach is close to the town of Noia and also boasts a camp site very near by.

Aguiera

I have not yet visited this beach, but it is large, has many small dunes you can hide between and is fairly quiet. It is also popular with wind surfers and has good car access.

Rio Siera

Rio Siera is a small beach which is fed by a river and has good access at both ends. There is also a cafe and picnic area close to the beach. One end of the beach is in the village of "Xuno" whilst the other is in "Caamano"

Coira

Coira is a well used beach ("praia"), especially at the weekends. It is also adequately serviced by the addition of showers, places where you can get food and drink and and refuse bins. It is very close to Porto do Sons largest town of Portosin.

Furnas

Next to the beach of Rio Seira, Furnas has some rock formations and an isolated pool within them. You can also reach the natural lagoons at both Xuno and Muro (this is not the same as Muros) if you want a "power walk".
Other beaches in Porto do Son include "Basonas and Regos", "Arnela", "Caveiro" and "Sieira", so you will be spoilt for choice.
---
Below, some of the other "galiciaguide" links within this Porto do Son guide
The Castro of Barona is made up of the ruins of an ancient Celtic hillfort. It is free to visit, but requires a bit of excersize. To find out more, hit the link.
The Castro of Barona 2 Some history and detail about this monument of Galician history.
Porto do Son fiestas Select the text to the left to find out about some of this principalities many festivals, fiestas and celebrations. These fiestas take place throughout the year, so there is a good chance that you can catch one, irrespective of when you visit this region.
Porto do Son Beaches A list of some of the popular beaches along the Porto do Son coast.