San Roque Parque, Ribeira
San Roque park is situated on the hills above Ribeira and just beyond the large beach and dune complex that make up Corrubedo national park.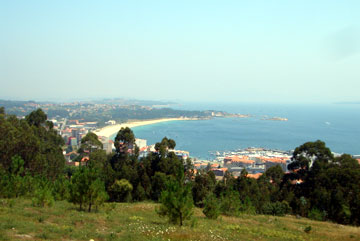 The San Roque park combines a number of features that I will summarise below.
Importantly it has its own free parking area, but like many attractions in Galicia it is not terribly well sign posted until you reach the park's entrance.
The park is right at the start of the Arousa Norte (ria) and looks down over the town of Ribeira and its beach. This makes it a natural mirrador and the views are excellent looking south and down towards the town's marina and port (see the photo to the right).
Around the mirrador area there are a number of benches along with what "we assumed to be" a fake ornamental dolmen. (The assumption is based on the fact that there was nothing stating otherwise and the unlikely location of the dolmen.) So, if you want a great view of the ria and the layout of the town of Ribeira, this spot is ideal.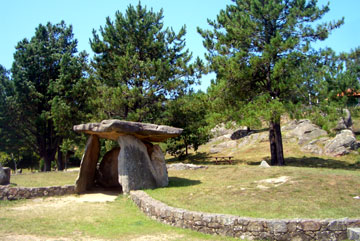 Left, the collection of large stones that form a dolmen, although this one is there for its aesthetic and not its authentic value.
In another area of the park there was a collection of replica castros. Castros are small Celtic buildings made primarily of stone and there are numerous castro ruins all over Galicia. This was however the first time that I have seen a reconstruction of several castros laid out as they would have been hundreds of years ago with roof and walls intact.
If you visit the real castro ruins at places like Barona (just a few kilometres down the road), you rarely get to see a good reconstruction and, if you do, it will be of a single unit. These reconstructions really gave a feel for what these Celtic settlements must have been like at the time that they were in use, but I think that these examples do.

Further down in the park there was a small amphitheatre.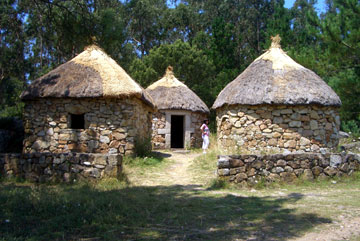 I assume that this gets used for performances of some kind, but there was nothing indicating any forthcoming events.
To the right is the collection of castros, all with roofs. When you see the real castro ruins each of the small buildings appear very close together and it is hard to imagine what they must have looked like originally. I think that this "mock-up" is excellent.
Throughout the park there are numerous benches and many picnic areas. The picnic areas varied considerably from stone and wooden tables and chairs, to BBQ areas where several stone BBQ's are available for use.
As far as we could tell, all that you needed to do was bring a grate or grill tray to cook on, along with your food and fuel and you would be good to go. There were some small open fronted stone cabins near some larger and more substantial BBQ's. A few were in use when we were there.

Running throughout San Roque parque there are a number of footpaths.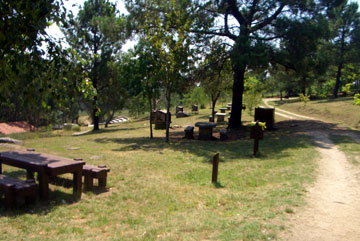 The park is based on the hills above Ribeira, so it is undulating and weaves around with many outcrops of stone and plenty of pine trees.
I do not think that the park has any great significance in terms of history or nature, but it is certainly a nice place to go for a picnic or to have a barbeque.
Equally, if you want to spend a few hours on Ribeira's large beach this park would make an interesting distraction before or after you sunbathe. Also close to this park is the big beach of Corrubedo
Above left, one of the picnic areas with barbeques, tables and chairs. The amphitheatre is just about visible in the left center of the picture below the picnic area.