The port town of Ribeira, Galicia
Ribeira is positioned at the very end of the "Barbanza" peninsula on the northern lip of the ria de Arousa (bay of Arousa) and is regarded as one of Galicia's oldest and most important seaport towns. Below, a sea front view.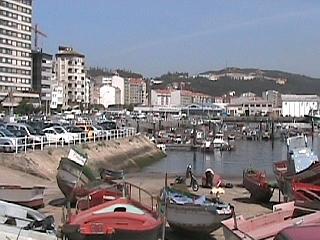 Approaching Ribeira from any direction takes you down from the hills that surround the town to a bay which is almost crescent shaped and features a large port. If you enter Ribeira by car there is plenty of parking available to the right of, and beyond, its large commercial dock. There is also a tourist office quite close to the dock from which you can get a town map and other visitor information leaflets.
It would definitely be applying poetic license to describe Ribeira as a quaint or picturesque town because it is anything but. That however is not why you should be motivated to visit this historic fishing town. Ribeira is one of the few large ports in Europe that has made little in the way of concessions to tourism and that is clearly evident from the prevention of public access to the commercial dock, to the constant unloading and transportation of the incoming catches.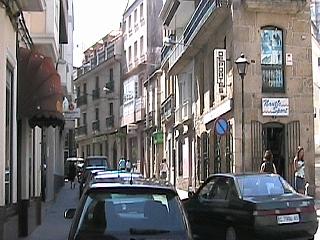 Ribeira does however have a lot to offer. Firstly you can see what a serious fishing town and community actually looks like and you can also visit one of the most active fish markets in the whole of Spain. Even in the late morning when we were there, crates of fish and buckets of crustaceans were still arriving from the latest catch. Above right, typical street.
If you like sardines, then this is the place to eat them. Ribeira has a reputation for sardines and a festival that celebrates them. Even as you walk along the streets that line the harbour you are constantly aware of the smell of cooking sardines as it wafts around in the air. If you want to partake, then there is no shortage of small bars constantly grilling them.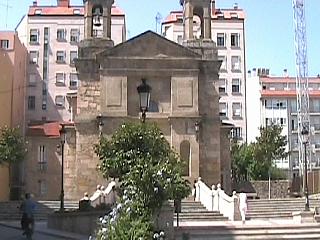 The greater part of Ribeira towns sea front is dominated by its large port, but as you step back in to the town itself, you will find a busy and bustling hive of activity with plenty of shops and the occasional interesting building. Ribeira does have some Galician mansion houses and some old churches (see left), but it is more the atmosphere of the place that will determine whether you like it or not.
One other thing that is worth doing at Ribeira is going to the top of mount "Castro". It is more a hill than a mountain, but affords spectacular views in every direction of the bay's mouth and Galicia's Atlantic coastline. You can find out more by taking a look at the San Roque park page via the left menu. This park overlooks the town and is worth a visit in its own right.