Ribeira's fiestas and our verdict
There is no shortage of festivals in the Ribeira vicinity, it is a big town and the main festival season commences in late Spring. Below is a summary of Ribeira's most significant and well known fiesta events.
The fiesta of the "Virgin de A Guia" takes place in May and is held in the district of "Pelayo de Carreira".
July sees the fiesta of "Dorna"
In August there is a big flower festival which features floral carpets and is centered near "Santa Uxia de Ribeira". This festival is apparently very spectacular and attracts many visitors from the vicinity.
In September Ribeira has the feast of "Santa Uxia" and the festival season ends for another year.
What else is close to Ribeira
If you want a really massive beach, then near by Corrubedo bay with its mile long sand dune, life guard posts and visitors center should be the ticket.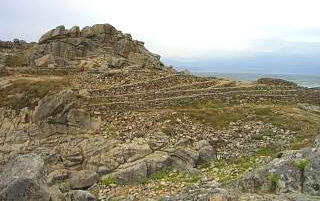 If you are looking for artefacts or ancient ruins, then a short journey will take you to the "Oleiros" where you can look at a collection of overlapping stones that date back to the time of pre-history - or so the story goes.
A further short drive down the main highway (C550), will lead you to "Porto do Son", where you can see the ancient Celtic ruins of Castro de Barona.
Above right, the ruins at the ancient Celtic settlement of "Castro de Barona", a short drive from Ribeira.
Our verdict on Ribeira
To be honest Ribeira is not a major haven for tourists, it is a real fishing port and its attraction to the vacationer interested in Galicia should be in seeing just that. If you want to see "living history", then visit Ribeira, if you do not, then give it a miss.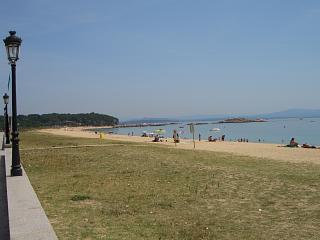 We personally liked Ribeira and for me it evoked memories of the former fishing port of Hull in the UK which I had visited as a child.

The other thing that really impressed us was the multitude of attractive and extremely well serviced beaches that are scattered around the localities close to Ribeira.
So in summary, if you want a glimpse of Galicia's sea fairing and economic heritage followed by a spell on an attractive beach, albeit with pretty cool sea, Ribeira won't disappoint.