Corrubedo Bay
If you drive past the town and beach of Queiruga, heading south, and then continue to follow the southern coastal road, you ultimately reach a roundabout. The roundabout actually has a small fishing boat on it, so it is difficult to miss. Crossing this roundabout will take you into the town of Ribeira, however, if you take a right turn at this roundabout, you find two routes that lead to different parts of a beach side National Park called, "Complexo Dunar de Corrubedo e Lagoas de Carregal e Vixan". We will just call it "Corrubedo" from now on.
This park is quite well known and features a massive sand dune over 1km in length which has a boardwalk (about 3/4 a mile long) leading to one section of a large beach which makes up the primary part of the park. Please note - as of 2012 this boardwalk no longer leads to the beach. Instead this part of the park is now restricted to walking on the boardwalk only. You can no longer continue to the beach along this route.
At the other end of the park (connected by the beach) there is a tourist information centre, a large cafe and a visitor's exhibition centre. This part of the park connects more directly to the beach and also features 3 different nature walks for those with a flora and fauna inclination. One of the walks skirts the beach.
Below right, the large beach at the "Dune" (Corrubedo) National Park.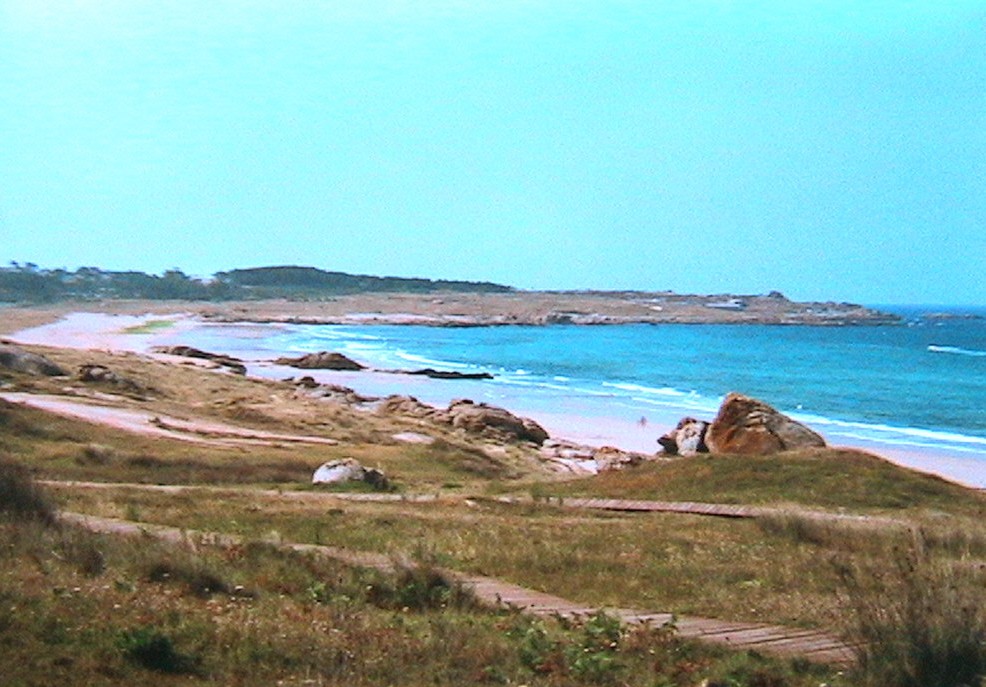 The section of beach nearest the parks facilities can get busy at weekends, but has lifeguards and is well patrolled at busy times. This area, in addition to being popular with sun bathers, has a constant cooling breaze and attracts a lot of wind surfers. Beaches just up the coast from Corrubedo are popular with surfers.
The beach itself is massive and you will have no trouble finding your own spot away from everyone else, even during busy periods. The sand is light yellow to gold and the waves are pretty big, but there don't appear to be any worrying under currents.
There is significant parking at both the dune and the cafe/visitors center sections of the beach. If you are feeling really energetic, you can walk from one end to the other.
If you want a diversion from the beach, or equally if you want to look back into the Noia and Muros ri,a you can take a trip to the lighthouse just down the road from Corrubedo. You can find out more about it here - the lighthouse near Corrubedo.