Galicia's Northern Rias
This is the first part of a two page guide describing what can expect to see and find if you take a coastal journey, travelling north to south, down Galicia's "rias" or bays.
In the north of Galicia the first of the rias is at "Vegadeo" and it is signposted by an old bridge that straddles the river feeding into the sea. If you plan to travel this region of Spain along its coastal route, don't expect every town to be "water colour" pretty. Many of these small villages still generate their revenue and employment through actively functioning as fishing ports and you will see towns shaped by their way of life rather than their beauty. That said, the typical Galician vacationer will find the living history of these ports highly appealing and it is worth bearing in mind that they represent not just a disappearing way of life in Spain, but also mirror the sea ports that existed in almost every country in the world up to just a few decades ago.
Take a look at the many coastal towns
If you plan to explore Galicia's coast, then be prepared to walk up the occasional steep street. Most of Galicia's towns are built into hills that seem to start almost as soon as the beach or port finishes and the buildings closest to the sea are likely to be connected to the dock itself. Step back, or up, from these and you will often find the more appealing parts of a town and also the districts where the shops, markets and many small bars are located. When visiting these little "back waters", don't be surprised if you get the odd funny look, international visitors are still a novelty and the locals will be as intrigued by you as you are by them.
On my first visit to Galicia I seemed to generate a huge amount of interest which was initially very good for my ego. Unfortunately, my wife then made the observation that the Galician's are in fact quite small in stature and that at six feet two inches tall my height, in Galician terms, was probably closer to six foot six. I was being looked at because I was unusually tall rather than exceptionally good looking. (I must add that my wife's argument never had me completely convinced.)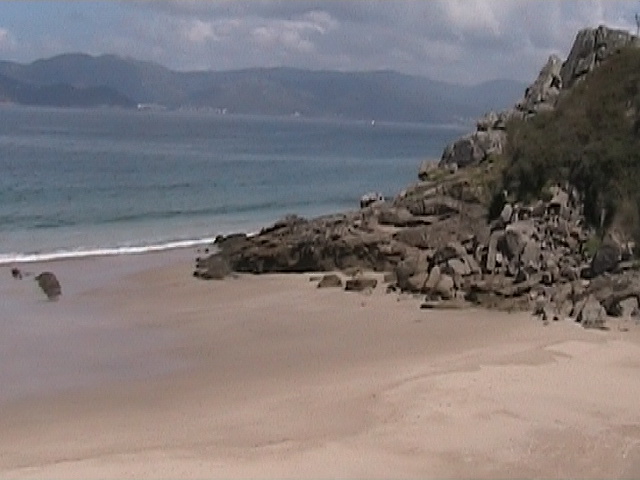 Travelling south
Moving down from Vegadeo you will pass through several small conurbations including "Viveiro", known for its miradored facades over looking the bay. This town also has a few interesting old buildings including its gothic church, a main stay of the majority of villages in Galicia. Although more attractive than most, Vegadeo sets the trend for what you can expect to find during a coastal exploration of the conurbations in this part of Spain. Every community will have an ancient, but well maintained church at its heart with two or three other significant structures close by, usually the civic hall and council chambers. You will also notice a lack of distinction between building usage in Galicia, with a fish market located adjacent to a house which itself doubles as a small shop. These are places that have evolved rather than been designed and they are at odds with what we are used to in the modern world.
"Cedeira" is another potential "visitors stop" as you skirt Spain's north western coast, but be warned, all these coastal towns follow the same "blue print" and you can get too much of a good thing. That said the roads that determine your path will frequently swing inland for short periods and you will constantly benefit from both sea and country (campo) views.
Moving down the coast it's hard to single out specific places of interest, but "Mino" and the city of "Betanzos" are other potential "stop off" points before you reach "A Coruna" (see the A Coruna guide page for details of this city), one of Spain's premier ports.
Moving south from A Coruna, the next stretch of coastline is the infamous Costa de la Muerte, which translated literally means "coast of the death". This is a rugged area with strong currents and many lives have been lost, both at sea in fishing boats and on the rock lined shores, harvesting what the Galician's call "percebes" (barnacles). If you live in the UK, you may have seen a TV series called "Cooking with Floyd" where, on one of his explorations, the TV chef assisted in both the picking and preparing of shellfish from this area.
Moving further south, small sea ports and villages proliferate and you can take your pick of where you visit and where you don't. "Laxe" is typical, but in addition to the obligatory old church also posses a lighthouse. The nearby town of "Camariñas" may also attract your attention, particularly since its building's defect from the traditional granite or white render to some more interesting muted shades of colour. "Muxia" is yet another appealing visitor's stop and from there you continue on to Finisterre, the mid point of the "rias", bisecting the "altas" from the "baias".
To continue this journey, click the button entitled "Rias Baias; Lower Bays" in the right hand sub menu bar.