Galicia's Southern Rias
Second part of a two page journey down the Galician coast
Continuing south from Finisterre you transcend the invisible line demarking the upper and lower sections of Galicia's coast and from Finisterre you embark on an exploration of the "rias baias" (lower bays).
Travelling down from this point you pass "Muros", "Noia", the "Porto do Son" conurbation and "Padron", all of which are described on other pages within this destination guide.
Beyond "Padron" you reach "Pontecesures", at the crossing of an original medieval bridge which transcends the river "Ulla", and from there you head towards the city of "Pontevedra" (see the Pontevedra section). Several interesting towns are passed on this route and among them are "Cambados", "Catoria" ( containing the remains of an old fort) and the islands of "la Toja" and "Arosa". None of these places justify a visit on their own, but when combined together and supplemented with a scenic drive provide an entertaining day out.
Continuing this ocean side journey, the next major city is "Lugo", but "Lugo" is reached via the "Peninsula del Morrazo", an area with attractive countryside and many more appealing villages and sea views.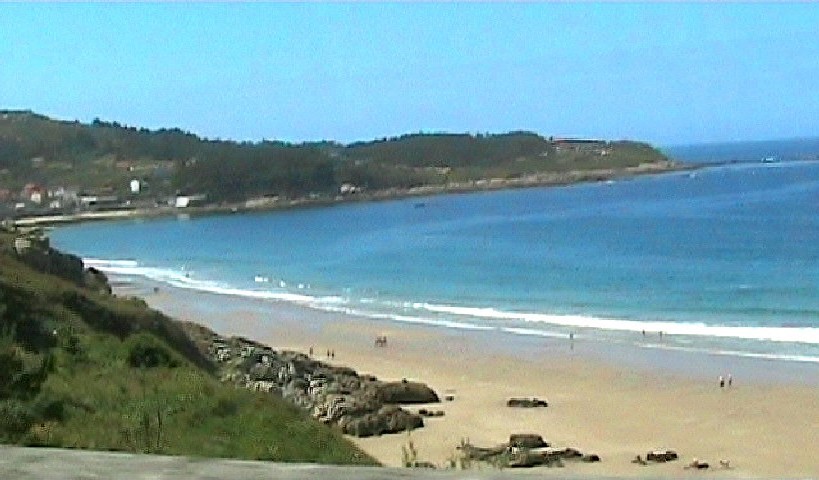 Both "Bueu" and "Moana" are worth a look and the scenery around the "Vilaboa" bay will stand out. The southern Galician shore also has more beaches than its counterpart in the north and you will have no difficulty in finding plenty of deserted tanning spots, all reached by narrow paths and tracks leading from the main road.


Parking and leaving your car unattended is generally not a problem, crime is low and parking is invariably free in all but the major cities. Do however take provisions with you if you intend to visit a beach as beach side shops and stands are rare.
At this stage of the journey the end of Galicia's shores are close, but "Bayona" a famous fishing port and summer tourist center is worth a visit. Beyond "Bayona", the inhabited districts of Spain's Galicia run out and whilst the views will remain, "stop off points", or at least those centered around people, will rapidly disappear.
Your Galicia coastal trip – Things to consider
If you consider making this journey, spread it over two, three or even four days and pre-plan stop off points and accomodation.
Looking at mileages and "as the crow flies" distances will not represent the length or duration of this trip. Although the roads will generally be good, they meander and wind, making a top speed of 50mph an absolute maximum. A straight line distance of some 20km will also result in an actual "miles covered" total of 30km to 35 km, so allow plenty of time to reach each destination. Also keep your tank full, filling stations are not so frequent on these roads and mobile phones regularly lose their signal. That said you will never be stranded in the wilderness, but flagging down another vehicle in the event of a problem may require a few Spanish skills.
If you like the sound of this journey, but don't like the idea of driving it yourself, there are several companies offering coach tours in Galicia and they may provide a less stressful, "hassle free" alternative. Our recommendation would be drive yourself and avoid the restrictions of being tied to, or limited by, a fixed time-table.