Beaches in la Coruna province
The province of A Coruna is littered with some of the best beaches in the whole of Spain. A Coruna's coastline is long and has many bays, coves and inlets dotted along its length and nearly all have a beach within them.
Trying to list all of these beaches would be a long and meaningless task, but you can find details of the main beaches associated with each of la Coruna's towns by selecting othe A Coruna's towns button (right menu) and looking up the location in question in the sub-menu that will then appear in the right menu bar. Some of these places, eg Noia and Rianxo, will have a separate page with local beach details.
A Coruna city's beaches
The city of A Coruna has several beaches, the first two run below the new city promenade and are called playa del Orzan and playa de Riazor. Both are popular and busy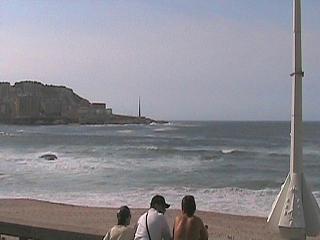 and can be easily accessed from the city. These beaches face outwards towards the open sea and the Orzan cove, where they lie, sits behind the headland that separates this area from the main shipping port and marina. Both these beaches have large waves and are ideal for surfers. They are also supervised with lifeguards. Above right, the far end of the beach at Orzan.
Also in the Orzan bay is the "playa de las Amorosas".

A little further away is the beach of San Amaro. This beach is very close to the Tower of Hercules (on the projecting headland) and resides in a tiny cove that is more protected than those above. It is also less accessible. A similar beach called "playa das Lapas" also has its own tiny inlet on the projecting headland, but is not as popular.
More beaches
For information about more beaches, see the Galician towns guid- for details of la Corunna's sandy stretches close to Noia, Muros, Ribeira, Rianxo, A Pobra do Caraminal, Porto do Son, Boiro, Santa Cruz and Ferrol.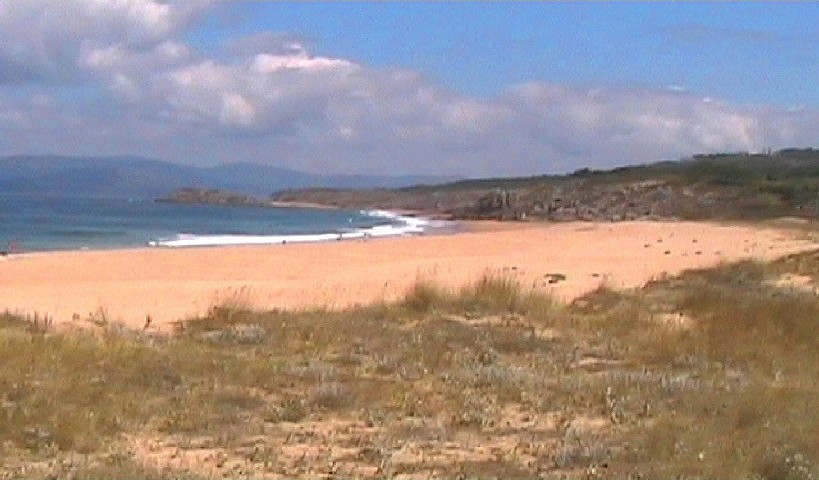 As a taster, the photograph to the left is one of our favourites "playas". The beach is called la praia de Queiruga and is just about in the Porto do Son principality. Unlike many other hidden beaches, this one faces the open ocean, has golden sand and is nearly always virtually deserted, except that is for the schools of dolphins that visit the bay.
Follow this link to get back to the A Coruna general overview.