Galicia's weather
The weather is the only real negative when it comes to Galicia. The Spanish think of Galicia as the rainy region, but that needs to be put into the context of Southern Spain and their 12 month long summers. Galicia does have 4 seasons and they are clearly defined with winter temperatures getting close to and sometimes below freezing.
On my summer visits to Galicia I have generally had around 5 good days out of every 7, and a good day can be 80 - 90 degrees Fahrenheit or more with brilliant sun and a clear sky. Summers are however unreliable and you should expect some cloudy and wet days.
The months of May and June are variable when it comes to weather, but the most picturesque when it comes to scenery. Galicia's flowers and blossom are out at this time of year and the hills and meadows are a blend of green and yellow from the daisies and wild broom. On a good day in late spring temperatures can easily reach 25 degrees centigrade, but the evenings are much cooler.
Many days can however start off dull with the sun burning through, what may look like an overcast sky, from around 11.00am. Humidity can also be high if you travel inland, but around the coastal areas there is nearly always a breeze and this is cooled by the Atlantic Ocean.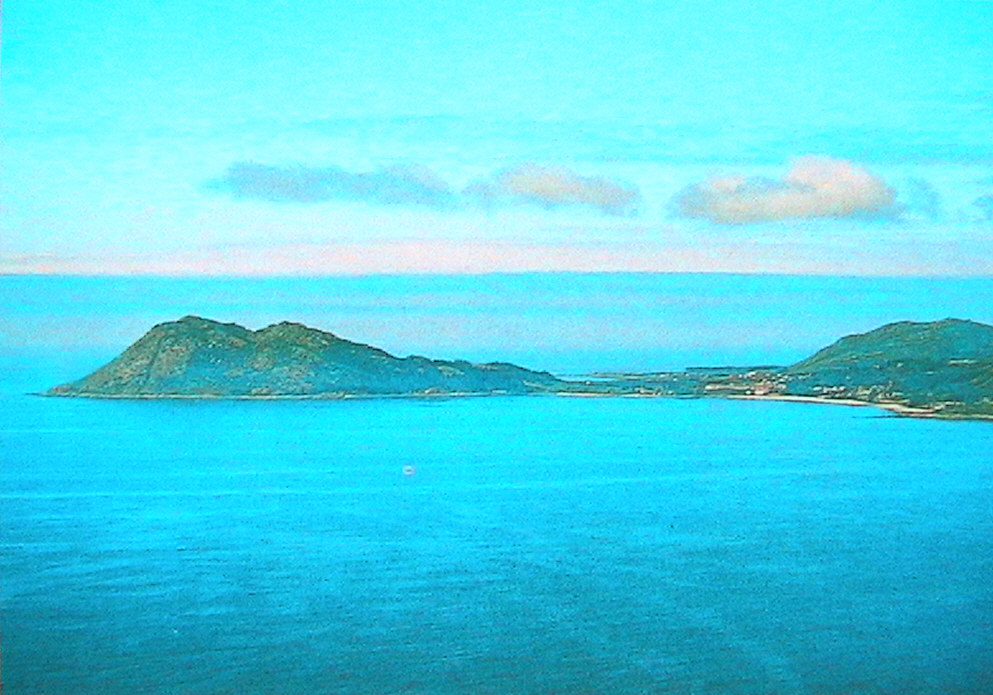 Provincial weather variances
Pontevedra has a micro-climate making it hot and (comparatively) dry in summer and mild in winter. Ourense has the most extreme of Galiciaís weather conditions with hot inland sunny days in summer, but cold and sometimes freezing days in winter. You can also see snow in Ourense. Lugo has a mix of weather with the north being cooler and the south (next to Ourense) being a few degrees hotter. La Coruna is in between the others. As a tip, if you are in la Coruna and have poor weather, check out the forecast in southern Pontevedra and especially Ourense. It may be worth spending an hour in the car and driving south to see some sun. Portugal is also close by.
Humidity can be very high, well over 80%, in summer, but the coastal areas will always offer a refreshing breeze. Spring (April to May) also has a high pollen count, mainly as a result of the pine forests. This can also catch out some "non" hay fever sufferers like my wife, so be warned.
Daylight hours
It will remain light (even in August) up until around 10.00pm at night. The best time to visit Galicia is probably around late June through to mid August when you will benefit from the best weather and longest hours of daylight. You can also sun bathe until around 9.00pm and the busier beaches will stay that way through to around 8.00pm at night.
Weather differences between the coast and inland cities
If sun is important to you, bear in mind that the weather varies significantly between coastal and inland towns.
As an example, Santiago de Compostela is reputed to have a least one drop of rain on over 300 days a year. If you visit Santiago, leave the sun cream behind and take an umbrella.
What you will also find however, is that on a dull and rainy day in Santiago, the sun may be out just 35km to 40km (27 miles) away at a coastal location like Noia or Muros. You will also find that there is frequently a weather difference between the towns and beaches inside the protected rias (coves and bays) and those facing open sea. As an example, if it is dull in the town of Noia, it may well be bright and sunny just half an hours ride away at "la praia de Queiruga" (beach) which faces open sea.
Plan Galicia's weather into your schedule
If you are staying in Galicia for a week, donít spend the first three days visiting its towns and cities and leave the last three days for the beach, the weather might have other ideas.
When we stay in Galicia, we plan it a little bit like a Florida theme park holiday, with an activity or adventure day followed by a "chill out" day. If we get a bad day on a day scheduled for the beach, we just switch it with an exploration day and normally things balance out.
---
For more information on weather in Galicia
These are good sites for real time weather updates
Weatherbug This link should take you to a page from which you can get real time and 7 day forcasts for any number of towns and cities in Spain including Noia, Santiago de Compostela, Vigo etc.
wunderground This one is probably better ethan the site above and covers most towns and cities in Galicia.
Please do not email us about weather predictions or expectations for your planned vacation. Everything we can tell you is now included on this page.