Eating ideas in Galicia Spain
Tapas
Tapas is everyone's favourite Spanish snack, or is it!
Throughout Spain locals and visitors alike are often served with a small plate of savoury tasters when ordering drinks at bars. As a result, most tourists from Britain and the USA assume that tapas is a snack or taster offered as an alternative to peanuts or pretzels when buying a drink. In reality, tapas is a complete food culture and there are a limitless number of tapas dishes available. Tapas can also be (and frequently is) ordered in larger ration sized portions.
Tapas can be hot or cold, based on meat, seafood or vegetables and served one dish at a time, or as a selection of several different dishes from which you can pick and choose. The Noia Galicia home page describes some of the tapas dishes I would recommend, but in summary they are: "calamari" (fried squid), "pimientos de Padron" (fried chili peppers) and "lomo" (thinly sliced fried pork). Tapas is best enjoyed (in our opinion) with a local beer (lager), or a glass of wine and some crispy bread.
To find out what tapas is really about and how it originated, see this Tapas link, courtesy of Ben Sieira.
Sea food
Galicia is considered to be the sea food capitol of Spain and many of the traditional dishes of the region feature something caught, trapped or extracted from the sea. Sea food stews are popular, as are all manor of different crabs ranging from the tiny to the gargantuan. Smaller shellfish in all their forms are also a Galician specialty, including prawns, shrimps, clams and pretty much anything that you can collect or dig up from the sands.
Traditional Galician dishes
Rice and pasta are not at the top of the Galician menu. The potato is the evergreen vegetable in Galicia and it appears constantly with all kinds of main courses. Basic boiled, mashed or roast potatoes are not seen that often in Galicia either. The Galician like to slow boil their potatoes in a stock, usually made up of paprika with juices from the meat and or vegetables.
Empanada is a traditional Galician pie (although eaten throughout Spain). It can be made with a filling of pork, veal, fish (usually tuna or cod) or seafood. Empanadas are quite expensive and unlike pies in the UK or USA, they use the best cuts of meat and are not padded out with vegetables. You can get empanadas in the supermarket, but the best source is from a bakers (Panaderia) where they will be freshly made. Most quot;Panaderias" sell them whole or by slice.
Chorizo (pronounced choritho), is a Spanish style sausage and can be used in cooking or eaten, sliced, in a sandwich or as tapas. There are many different types. Personally, I like a spicy version called "chorizo de pamplona" which is impossible to get hold of at home in England.
Churros is the traditional breakfast of the region. It is made from a donut like batter cut into strips and served (sugared) with very thick hot chocolate. You dip the churros in the chocolate. Churros is a dream come true for choc-a-holics, but more of a breakfast challenge for the rest of us. I like churros, but I need to psyche myself up for a sugary chocolate breakfast the day before.
Below, "churros" and hot chocolate (being devoured by my wife Maria). The chocolate is so thick that a spoon stands up vertically when placed in it.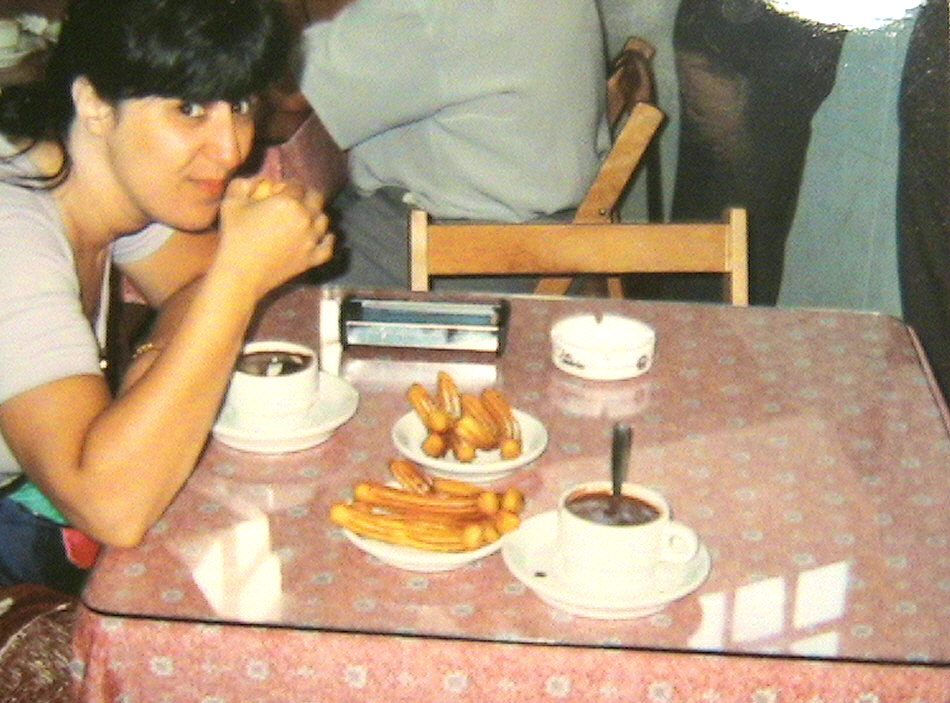 Something to look out for:
If you go into many bakers in Galicia you will see a dessert that resembles a bakewell tart (a flat round almond based tart in a pastry case with raspberry jam), but with a motif at its centre. It is called a "Torta de Santiago" and is a cake decorated with the Cross of Santiago at its center (in icing sugar). This cake is traditional to the region and is very popular (it does not however taste like a bakewell tart, although it is very nice). You will also see large breads covered in sugar, they are not cheap, but do taste good if you have a sweet tooth and don't have to watch the calories.
Something to avoid (in our opinion) is "Navajas ", a sort of cuttlefish prepared with paprika. "Navajas", translating to English as "pocket knives", look like a long elastic textured worm that resides within what we in England call "razor" shells. I really will try almost anything once, but these things are truly disgusting (and expensive) and I advise you not just to avoid eating them, but also watching anyone else eat them. I managed just one! (Thanks to Tom Marting for correcting me on the name of this particular delicacy.)
To find out more about Galician food and wine, visit the "Gastronomy" section. There is a button on the main site menu (on the left of this page).
Additionally, if there are specific provincial dishes in the towns and cities of "A Coruna", "Pontevedra", "Ourense" or "Lugo", they will be mentioned in the sections describing the province in question.