Inside the Cathedral at Lugo
Within the cathedral there is a Renaissance walnut choir by Francisco de Moure, constructed during the seventeenth century and a "reredos" in the baroque style. The cathedral's elegant stalls were carved by Francisco Mouro (1624), but it is perhaps the many structural elements of the cathedral's detailing that provide the greatest interest.
The main chapel and portico are distinctly gothic (see below), as is the ambulatory, however the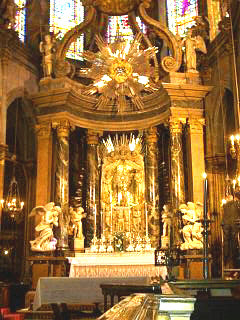 cloister is baroque and the external facade neo-classic, with the transept and nave retaining their Romanesque origins. The cathedral is quite literally a living history of the various architectural influences that have shaped the buildings of Galicia over an eight hundred year period. The cathedral also houses Lugo's Diocesan Museum which holds a variety of religious works, some documenting Christianity in Galicia from as far back as the 5th century. Works of art and sculptures are also in the collection.
When you enter Lugo's cathedral it initially seems dark and austere, but as you approach the main altar you are struck by its fanciful design and the sheer brightness of its elaborate gold and multi coloured detailing. On its own, this altar would more than satisfy most visitor's expectations, but the real star of the cathedral's interior lies behind the main altar.
Lugo cathedral's hidden treasure
Behind the altar you find the 14th century apse, a semicircular vaulted recess at the termination of the sanctuary end of a church, containing five small alcoves. Each of these alcoves does itself contain an incredibly ornate and tiny chapel. All these chapels are impressive, but the central and largest one is nothing short of awe inspiring. I have yet to see any man-made structure that comes close to equaling its intricate detailing, elaborate design and overall jaw dropping impact. I sat in this chapel for several minutes and admired the amazing vaulting, wall decoration and stunning statue at its center.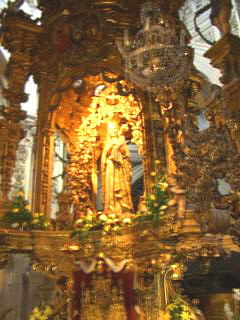 I can honestly say that for me (even as a non practicing Christian) this small room alone justified the journey to Lugo. Astoundingly, most visitors to the cathedral never even venture behind the main altar and completely miss the opportunity to see this truly stunning treasure.
I believe, but am not completely certain, that this chapel is called either, the chapel of "Virxe doss Ollos Grandes" and dates from the 17th century or, "Chapel of El Pilar, of San Froilán, of Nuestra Señora de los Ojos Grandes", in which case it may be 16th century. If you know more, let us know, we are more than happy to be corrected on this point.
Back to Lugo cathedral main page