Towns and sightseeing attractions in Lugo Province
This page is a portal to the many towns and sightseeing attractions of the greater Lugo province and it will be expanded and updated periodically as we add new features and destinations.
Any detailed information we have about any of the places listed below will have a "yellow boxed" link that you can click on to find out more.
Places to visit in Lugo province
Aside from its provincial capitol, Lugo has several other large towns and cities of sufficient size and cultural interest to warrant a visit. It also has the ancient ruins of forts and castles and many places of exceptional natural beauty. Some examples of these are given below: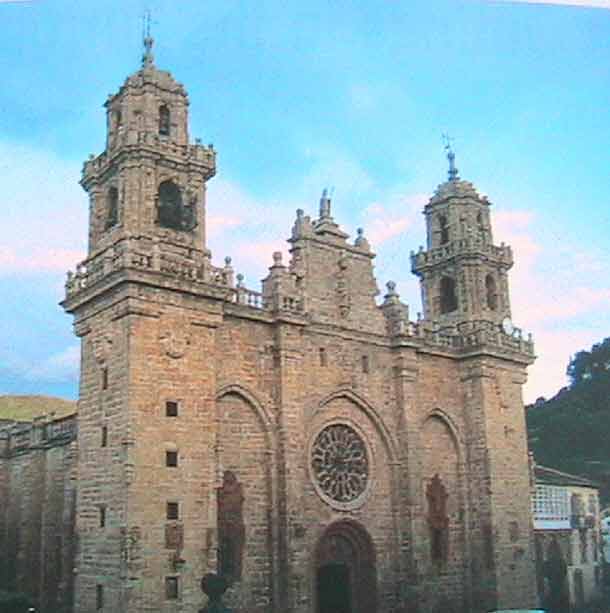 Mondonedo
Mondonedo is an inland town in the north east of the province with an impressive cathedral (see right). It is just over 60 km from Lugo, but is reached on non motorway routes.

A Pontenova
A Pontenova (no information). Approximately 60 km from Lugo.
Samos
Samos is a very small town with a large monastery that is an essential port of call on one of the pilgrim routes to Santiago de Compostela. It is approximately 40 km from Lugo, but a good hour or more by car on winding but scenic country roads. To find out more, hit this link Samos monastery
Sarria
Sarria is a large town famed for Galicia's biggest and most regular antique fairs. Sarria also has its own convent on the slopes above the town. It is around 30km from Lugo, but takes three quarters of an hour by car. It has an excellent pizza restaurant. To find out more, hit this link Sarria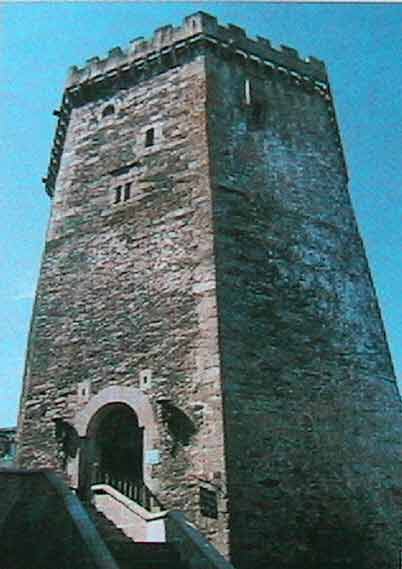 Vilalba
Vilalba is famous for it tower, the "Torre de los Andrade en Vilalba", which you can see to the right. Vilalba is approximately 35km from the provincial capitol of Lugo.

Meira
Meira (no information). 35km from Lugo city.
Ribadeo
Ribadeo is an attractive town with a castle and many colonial style buildings. It is also an early stop on one of the Caminos, or pilgrim routes. It is over 100km from the city of Lugo.
Viladonga
Viladonga has the ruins of an ancient Celtic fort settlement called a Castro. It is regarded as a particularly good example and also has an adjoining museum. The Castro is 10 to 20 minutes drive from the center of Lugo. Entrance to both Castro and museum is free. To find out more, hit this link Viladonga
Monforte-de-lemos
Monforte-de-lemos is actually quite close to the provincial capitol of Ourense, in the extreme south of Lugo, and it is from there that we would suggest you visit it. Monforte has a hill top monastery and a truly monumental college building. A former convent in the town also acts as a museum and it has a Roman bridge. For more information, click this link Monforte de Lemos
Viveiro
Viveiro has the largest estuary in the Cantabrian ocean, the remains of a medieval wall and a Romanesque church.