Lugo Cathedral
The cathedral of Lugo is located just inside Lugo's old Roman wall and you can descend a flight of stairs from the wall that delivers you directly into the cathedral's main forecourt.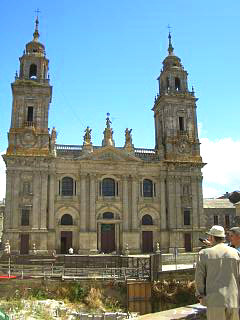 It is also from the Roman wall that you can get the best view of the cathedral's frontal elevation, particularly from a photography perspective.
Left, the main facade of Lugo's impressive cathedral, as seen from the Roman wall.
This cathedral really is an eclectic merging of styles and forms. If you were to look at the front and rear facades independently, you could easily be mistaken for thinking that they were from two completely different buildings. The Neo-classical main facade was designed by "Sanchez Bort".

An eclectic style
The oldest parts of Lugo's cathedral dates back to 1129 AD when the building was constructed as a Romanesque gothic temple, but many additions, alterations and repairs have modified it over the years.
Taking the structure as a whole you have a combination of Romanesque, gothic, baroque and neoclassical styling. Viewed from the front, the cathedral has two slender bell towers.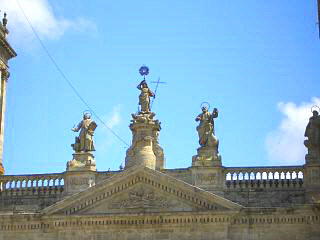 These towers rise skywards and sandwich a triple arched, double storey main block containing two pairs of narrow columns that extend up vertically to support a decorative central feature (see right). This Neoclassical facade, along with its elegant towers, actually only date only from 1769 and represent the most recent of the cathedral's structural elements.

A different view
Looking to the sides and especially to the rear of the building, you have a totally different elevational view. The sharp angles and symmetrical features of the main facade are replaced by curves, flying buttresses and a much fussier and less disciplined design form. These are the older parts of Lugo cathedral and they are in architectural contrast to its elegant and imposing frontal facade.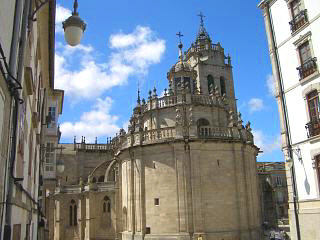 All told the cathedral has no common theme or style running through it, but it is certainly interesting to try and identify where one architectural theme ends and another one starts. Left, a section of the cathedral's older construction.

The courtyard or square to the rear of the cathedral also houses the "Palacio Episcopal", built in 1738 by "Gil Taboada" and fashioned in the Baroque style of the period. In keeping with most buildings of this era it is constructed of granite.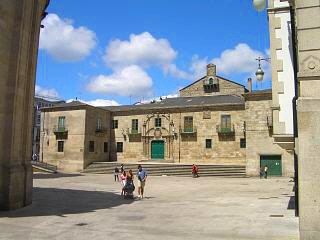 Right, the eighteenth century "Palacio Episcopal", facing the cathedral and just inside the Roman curtilage.

Inside the Cathedral of Lugo
For a description of Lugo cathedral's spectacular interior or, for more photographs of this structure, select one of the yellow links below.
Inside Lugo cathedral
More photos of Lugo cathedral
Back to Lugo main page.