Igrexa de San Francis (church of St. Francis)
The "Igrexa de San Francisco" is a large church that sits to one side of the "praza da Ferreria" (Ferreria square). It occupies an elevated spot and, along with the "Pilgrims chapel", dominates the spacious plaza. Below, the church from the main square.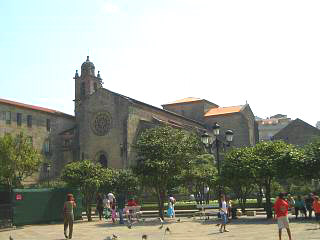 The greater part of this church was built as long ago as the fourteenth century and this is clearly identified by its rather primitive design. The construction is of large granite blocks and the building looks down on a lawned and planted garden below. If you ascend the set of steps that lead up to the churches rear, excellent views are afforded of the plaza below.
Externally the "Igrexa de San Francisco" has no stunning aesthetic highlights, but its age and position, along with its elevation looking down across the "praza de Ferreria", are its primary attributes.

Internally the church has some ancient and notable tombs, in particular that of the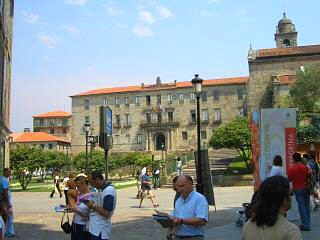 "Pia Gomez Charino" family. This tomb, along with another, can be seen in front of the main alter and it is said that "Gomez" himself was a sea admiral who, along with a crew from Pontevedra, played a leading role in the conquest and capture of Seville (also in Spain). This attack took place in 1248 and resulted in Pontevedra being awarded important trading privileges by King Fernando III. The significance of these privileges has been perpetuated through the regions history and is one of the reasons why Pontevedra, and not the much larger city of "Vigo" is the provincial capitol. The picture above has the church to the right and a large civic building in the center.
Also in the church you can see some murals from the sixteenth and eighteenth centuries and a more recent statue of the "Nazarene".

Convento de Santa Clara
A short distance away from the "Igrexa de San Francisco" and just beyond the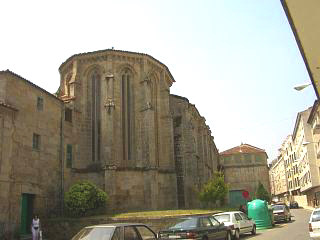 boundary of what was once the old town walls, lies the "Convento de Santa Clara". This is an old convent and includes a fourteenth century church and Baroque alter. One of the original entrances through Pontevedra's original enclosing wall was named after this convent.
Whilst this picture makes the Santa Clara convent appear almost identical to the ruin of San Domingos in the alameda, I assure you it is a different building.