The Prazo do Teucro
This is an old and highly symbolic square in Pontevedra's old quarter. It combines history,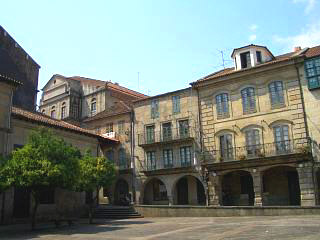 myth, provincial architecture and heraldic wealth in a single rectangular courtyard and was constructed during the eighteenth century.
To the right a shot of the top, or west side, of the square known as "Prazo do Teucro"
The square is surrounded by many fine manor houses and is regarded as the most stately plaza in Pontevedra. Among the properties lining the "Teucro" square are those originally owned by some of the city's leading families including the "Montenegro's" and the "Marquis de Aranda". Most of the houses date back to the seventeenth and eighteenth centuries and are still in their original form representing what wealth and aristocracy stood for during that period.

The Teucro and Pontevedra's connection with the Greeks
Pontevedra's history and connection with myth are also linked to this original part of the old town which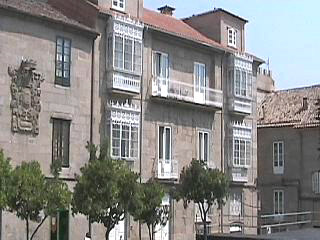 legend claims was foundered by the Greek archer, and brother of Ajax, "Teucrus". Folk law has it that "Teucrus" traveled west after the "Trojan" wars and subsequently discovered Pontevedra.
In truth Pontevedra's origins are more likely linked to a stop on an early Roman road and the name Pontevedra, meaning "old or ancient bridge", can be found in biblical texts dating back as far as the twelfth century.
Although popular myth may make some unrealistic claims about the "Prazo do Teucro" and its distant origins, its heraldic legacy is not in doubt. Pontevedra as a whole boasts over 200 coats of arms emblazoned into its walls and buildings and the "Prazo do Teucro" is the single most prolific demonstration of the city's heraldry. Almost every building surrounding this small square has a coat of arms cut into, or projecting out from, its facade. The most notable of these detailed works of masonry is to be found on the "Gago and Montenegro" house on the northern side of the Square.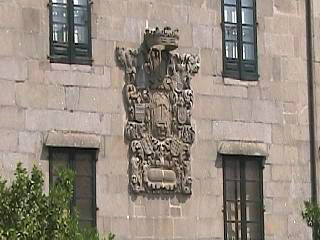 This coat of arms is in the Galician baroque style and dates back to around the seventeenth century. It is both large and three dimensionally detailed and without question the most impressive example we have seen in Galicia. See the photo, right.
The square also has a further use when, during the fiestas, it plays host to night time concerts with a temporary stage erected in its eastern face. The square also slopes downwards, west to east, making it a natural auditorium for such events.

Return to Pontevedra home page.