Pontevedra Province – A quick guide
If you have never heard of Pontevedra, or know little or nothing about it, here is a brief and condensed summary of what this province has to offer.
Pontevedra, along with "A Coruna", "Lugo" and "Ourense" is one of Galicia's four regional provinces. Pontevedra faces the Atlantic to the west with both "Lugo" and "A Coruna" to the north and the land bound "Ourense" to the east. Neighbouring Portugal can be found to Pontevedra's south.
A few facts
Pontevedra has a population of just under one million inhabitants. It has over 500km of coastline and its highest point is about 1000m above sea level. It has four main cities, but many smaller towns and villages.
Pontevedra's main cities
Vigo is Pontevedra's largest conurbation and is in fact the most highly populated city in Galicia. Along with its self named capitol (Pontevedra), "Tui" and "Vilagardia" make up the rest of the provinces four major urbanizations.
Pontevedra weather
Pontevedra enjoys more than 2100 hours of sunshine in an average year and some of its districts have an average annual temperature of 14 degrees C. In 2005 the provincial capitol enjoyed a summer with an average temperature higher than that of many of Spain's Costas and Canary Islands. It is said that some of the southern and coastal districts of Ponteverda, including Vigo, enjoy the benefits of a near Mediterranean microclimate.
History, Culture and Monuments
Pontevedra has Castros (Celtic settlements), Petrogliphs (cave art), ancient burial grounds and a wealth of civic and religious architecture that date back from as near as one hundred years ago, to as far as twenty five thousand years ago.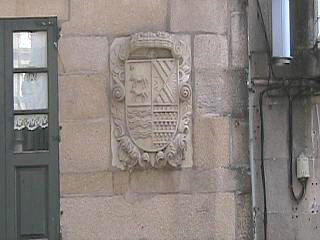 The Greeks, Romans, Nordic Vikings, Normans, Muslims and Phoenicians have all played some role in Pontevedra development, be it an attempted invasion or a more peaceful trading agreement.
The region has Cathedrals, churches, monasteries, convents, castles, bridges, plazas and mansion houses. You can see examples of Baroque and Gothic architecture inter mingled with more contemporary buildings and a form of urban development that has been shaped by the ever present ocean, agriculture and religious influences. (Above, an example of Pontevedra's heraldic heritage.)
Pontevedra boasts a sea based cuisine that, like the rest of Galicia, is second to none and also has the regions premier vineyards and wineries which are given a guarantee of origin and quality.
What else?
The province of Pontevedra is lined with beaches, many of them almost deserted. It has a thriving festival culture with fiestas, carnivals and processions taking place almost all year round. The province has a host of smaller towns that you can visit and explore from "Rodeiro" at its most easterly inland point, to "Cangas" and "Baiona" on the coast.
Getting to Pontevedra is also easy with major road networks connecting both Pontevedra city and "Vigo" to the other provincial capitols and even cities as far away as Madrid and Barcelona.
Interested in finding out more? Then take a more detailed look at this region by selecting from the Pontevedra index buttons in the right hand menu bar.