Activities and sports around Vigo
One of Vigo's biggest pluses is its locality to so many of Galicia's tourist attractions. The obvious ones are the cities like Pontevedra and the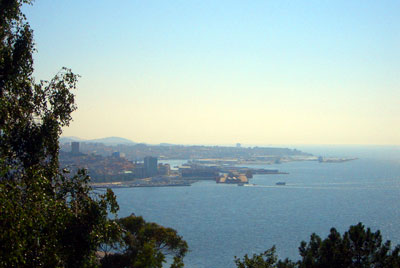 historic Tui, but Porto in Portugal is only an hour away and then there are pretty towns like Cambados and Sanxenxo a little further up the coast.
For any visitor with a car, Vigo is probably as good a base destination as can be found for exploring the southern parts of Galicia and, with a near equal distance between the provincial capitals of la Coruna and Ourense, it open up the whole of the region.
Also on the outskirts of Vigo are numerous beaches, nature reserves and scenic walking and cycling routes and when viewed collectively, these all factor in to make Vigo a great base or starting point.
Views like the one to the right are availble from many walking and driving routes around the bay.

Walking
Those with an interest in walking in northern Spain will know that the region's walks are classified and named with the less than imaginative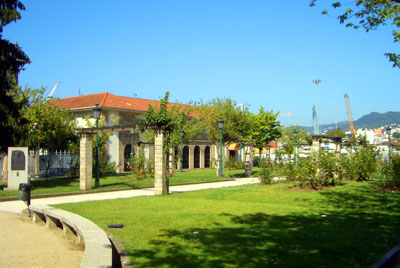 combinations of letters and numbers.
Vigo has a walk called the GR53 which in total covers about 55 kilometres on a route that takes in the best of Vigo's countryside and scenery whilst skirting much of the beautiful ria de Vigo.
The walk benefits from the inclusion of nature reserves, archaeological remains and the great views offered when looking out in to the mouth of the bay. For those interested in a less challenging journey, the many sub routes of the GR53 can be broken down into much shorter and more manageable walks.
Left, the outskirts of the city where things become more rural.

More sports
On leaving the city of Vigo, a number of sports and recreational activities become available and these range from the obvious body boarding and Sports Centre offerings, to those which take advantage of the geography and climate of Vigo.
Quad bikes can be rented for mountain excursions and training is available for novices.
Ocean canoeing is readily available, although this offers greater dangers than canoeing in still water or in shallow rivers.
Still at the beach, wind surfers and jet skies can be hired and beachside safety training is usually available.
For those with even more adventurous outlooks, hang gliding and parasailing can be found, although only during the peak holiday season (July to August).
Anyone wishing to experience any adventure sport should ensure that their holiday insurance adequately covers these activities and that they receive (or have previously received) adequate skills and safety training before hand.