The greater city of Vigo
The large and modern new town of Vigo is located in the province of Pontevedra in the bay (or ria) from which it takes its name. Around Vigo lay the districts of Alcabre, Samil and Catabo, whilst within the city there are some more familiar names like Florida.
Vigo really is vast and as you drive through it, it appears to continue endlessly along the winding coastline.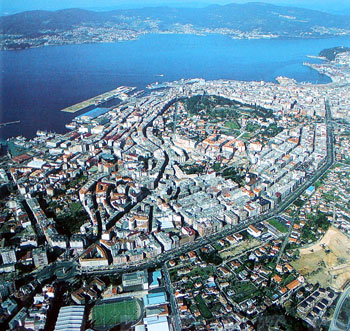 The views of the city, and especially of its many small bays and beaches, are seen at their best from the motorway toll road on which most visitors will approach the city. This elevated highway runs not just through, but also above the greater part of the city and this is how most tourists and visitors to Vigo will initially see its cityscape.
Right, Part of Vigo city, as seen from above.
Visiting Vigo requires a plan
Because of Vigo's size it is advisable to obtain a map before attempting to navigate within the city. Searching for the old quarter, or trying to find the large Parque de Castro (park and gardens) without a street or location plan is not a good idea (I write from experience).
Although large in scale, Vigo lends itself to being divided up into a number of tourist "hot spots" and once this has been done the city takes on a much more manageable look.
At the top of most tourist's "things to see" list is the old quarter and this occupies a compact area on a fairly steep incline that runs down to the ocean front. This area is has a double appeal because it also backs directly onto the recreational portion of the marina with Vigo's "Club Nautico" at the ocean front.

When combined, these two areas and the "las Avenidas" pedestrianised zone that divides them, become a good starting point for an exploration of Vigo.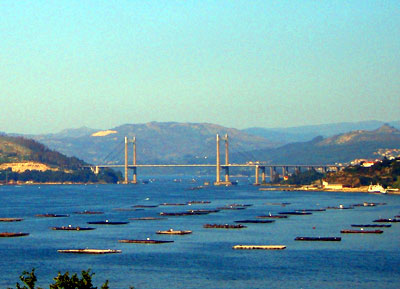 They also contain a couple of dozen bars and cafes, most lining the "Avenidas" or in the plazas of the historic district. Also just off "las Avenidas" is parking and the departure point for an open topped sightseeing bus tour journey around the city.
How long to stay
Casually wondering around the old quarter and port and then taking in some refreshment can easily fill two, three or even four hours.
Once the old town and port have been ticked off the list, another worthwhile trip is a visit to the "Parque de Castro" gardens in the center of the city. Getting to this park involves passing through much of Vigo's shopping district, but it may be advisable to drive or use public transport.
The park has some archaeological ruins and a tree lined boulevard called the "Avenida Marques de Alcedo". The old quarter and sea front lie below (to the north) of this park.
Vigo has much to endear it and we found a further "mini" historic district in another part of the town. There are also spasmodic parts of the seafront which are still comprised of the old fisherman's houses from anything up to three centuries ago.
On the outskirts of Vigo "proper" is the hamlet of Boulaz and parts of this town are still very representative of the Vigo of a days gone by. Again this part of the city is easily visited by anyone with a car. It borders the district of Alcabre, just outside of Vigo.
Everything at hand
Another advantage of Vigo city is the accessibility of everything from international restaurants to designer boutiques.
Vigo offers high class shopping, top quality hotels and it is within a half hours drive of Pontevedra and an hours drive from "Porto" in Portugal. As a base from which to explore southern Galicia and northern Portugal, Vigo is ideal.
If Vigo has a drawback, then it is its prices. Vigo is the most expensive city in Galicia when it comes to buying a drink or finding something to eat, but again this perceived expense is based on Galician, rather than international standards.