The Port and Marina at Vigo
The part of Vigo's port that most tourists will initially head for is undoubtedly the marina.
This marina is one of the most exclusive in Galicia and it is certainly a nice place to visit,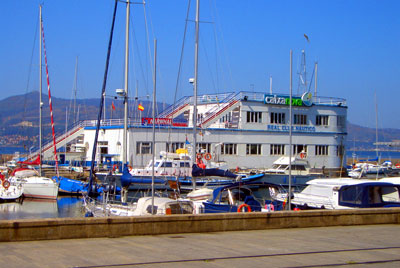 or indeed to stop at and get some refreshment from one of the overlooking cafes. The marina's Nautical Club sits just in front of the attractive "as Avenidas" area and this is very much a part of Vigo that has been designed with tourism in mind.
Right, the Nautical Club at the port of Vigo.
The marina has a continuous promenade, offers an opportunity to see every type, size and value of boat imaginable and, on a sunny day, makes for a relaxing and enjoyable walk. The area is frequented with cafes and bars and is close to the old quarter of the town.
The embarkation point for cruise liners is at a different point in the port to the main marina, so those wishing to see this will need to get back in the car, or take the tourist bus that departs and returns from the marina and travels on a route that takes in the cruise ship docking area.

The commercial port
Aside from the marina, Vigo's commercial port does have an appeal all of its own, at least to some (including me). The port is truly enormous and it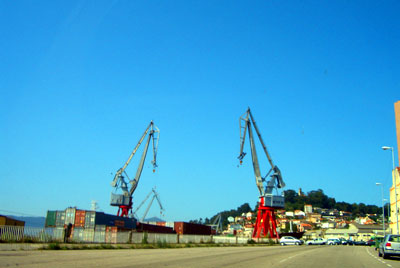 seems to continue for kilometre after kilometre with massive ships, cranes the height of skyscrapers, and more containers than most people though existed the world over.
Left, the commercial and indutrisl section of Vigo's port is massive and continues for some distance along the coast. It does not however spoil the marina area or the beaches and their views.
We actually found the size and spectacle of Vigo's port quite something to see as it takes on the scale of a city rather than a mere port.
For those interested in the magnitude of Vigo's ocean side developments, a short car journey to the town of Teis and the vantage point of "Ermita and the Mirrador de a Guia" (a park built on a hill) shows the true extent of the port. It also confirms why Vigo is so important to the economy of Galicia and Spain.
For those wishing to see a quaint and typically Galician "fishing village" type port, Vigo will most definitely not fit the bill, although some of the local coastal towns will.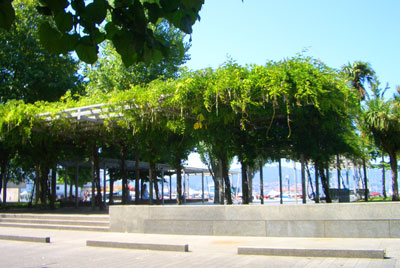 Right, this is part of a tree lined area that runs by the side of the marina and the cafe area below the old town. Pictures do not do it justice.