Vigo's parks and mirradors
Vigo has a number of municipal parks and gardens that are either visitor attractions in themselves, or offer viewing points across the various vistas of the city and its spectacular bay. Here is a brief summary of a couple of them.
El Castro (the inner city park of Vigo)
Vigo's main inner city park is Parque de Castro and this is situated in the center of the city and acts as an oasis from the traffic, and the hustle and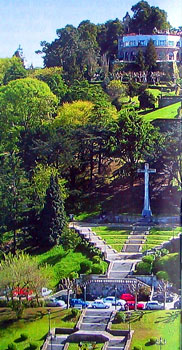 bustle of Vigo's busy life. It has a number of features including, a large but plain stone cross, a monument and the ruins of a pre-Roman settlement, but its main purpose is that of a temporary escape from city life.
Pictured right, part of the park with its large stone cross and multiple stone stairs.
The park has an outer and inner area with a road and road side parking separating the two sectors. The large stone cross is accessed by a very grand stone stair which splits into three and then continues up and around the cross towards the middle and top of the park. This central point is highly elevated and involves a short, but strenuous walk.
The "el Castro" park (as it commonly known) is built into a hill and at its summit can be obtained great views looking back across Vigo city and into the bay beyond. The Spanish call this a mirrador and the park actually has several of these mirradors at different levels.
The park also has a small section containing the remains of a once great fort called "San Sebastian", but most visitors simply enjoy the extensive varieties of trees and shrubs that are planted on the parks slopes and the decorative monuments that add further interest to this urban escape.

La Guia hill
Situated just outside of Vigo city, this is another "hill" park that offers truly spectacular views looking across Vigo and out in to the ria (bay). It is worth visiting if for these views and nothing more.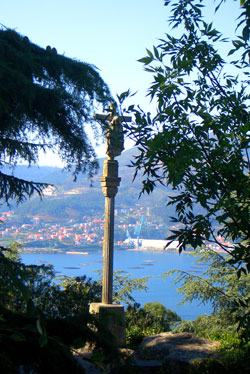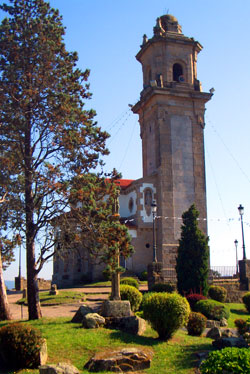 La Guia park is really nothing more than an ornimantal and cultivated hill in the small town of "Teis", but it is striking because of the tall single spire chapel of la Guia that sits on top of it.
This church is just about visible from almost anywhere in Vigo and once you reach it, either by parking and walking up, or better still by taking the concentric road that takes you to a car park at its peak, you can look down on the city and ocean beyond.
The views from la Guia park really are spectacular and you get to see not just the weaving coastline, but also the massive commercial port of Vigo which in its own way is quite a sight.
With its location on the north eastern outskirts of Vigo, this park can easily be incorporated into a route going to or from any of Galicia's other major cities.
Above left, the view looking back towards Vigo and the "ria" from the top of"la Guia" hill and right of the church on top of the hill.

Other parks in Vigo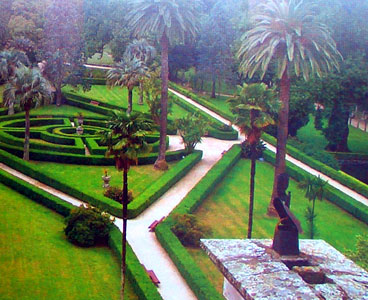 There are a number of further municipal parks in and around Vigo and also some manicured areas surrounding museums and manor houses. One of, if not the best of these is "Castrelos" park to the south of Vigo.
Castrelos is a large park with beautiful lawns, flower beds, ornamental water features and lots of paths and benches.
Aside from its natural beauty, this park also has the museum of "Quinones de Leon" and the church of Romanica de Castrelos in its grounds. It has a river running around it and is ideally placed just off main highway routes into and out of the city. Castrelos is the perfect location for anyone who is spending a few days in Vigo and wants to escape the city for a couple of hours.