Nineteenth and early twentieth century Vigo
One feature of Vigo that sets it apart from the other cities of Galicia is the rapid and well financed development that the city saw as it expanded its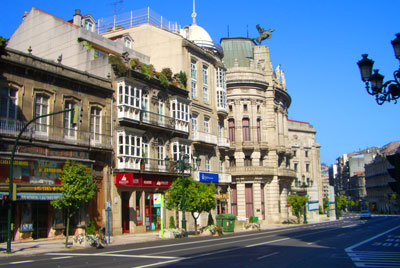 population several fold in the late nineteenth and early twentieth centuries. This expansion, along with a carefully set out town plan and the money from the city's prosperity, saw it able to build some magnificent civic buildings during an era in which the rest of Galicia was relatively passive.
Today many parts of Vigo, but particularly the areas skirting the original old town, have a superb legacy of stone buildings on a par with anything else in Galicia. Typical examples include the grand "Fraga Caixa Galicia Theatre" and the "el Moderno" buildings both of which demonstrate the high levels of skill possessed by Galician stone masons in relatively recent times.
left, A mix of the old and more recent buildings of Vigo on the main street that sits just above the old quarter.
The buildings from this period do not occupy a single district, or dominate any specific street, but they are distributed around the city ensuring that most of the "calles" and "ruas" have a least one point of architectural and historical interest. That said, the streets closest to the original old town are the most visually rewarding and have the greatest incidence of these buildings.

Buildings from turn of the century Vigo
Other structures and monuments that help to define Vigo include the sculpture, Male Siren (el Sireno), which sits just above the old town looking out to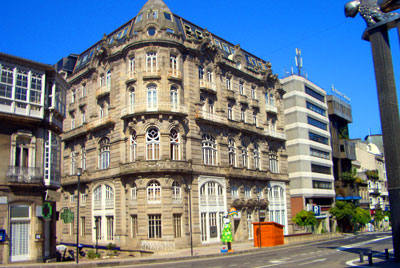 sea, the city's cultural centre, the library building and a number of other buildings constructed between the eighteen seventies and the early nineteen hundreds.
It is this "turn of the century" period that many think defines Vigo above all others and that that has a greater representation in this city than any other in Galicia.
Right, the "Moderno" which was built at the turn of the century in 1897 and is a good reflection on many of the large building of this period. It was designed by a french architect and demonstrates a mix of styles.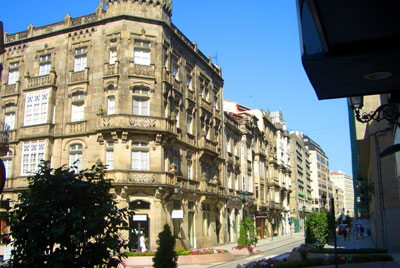 The selection of buildings to the right are all relatively close to the old district and marina.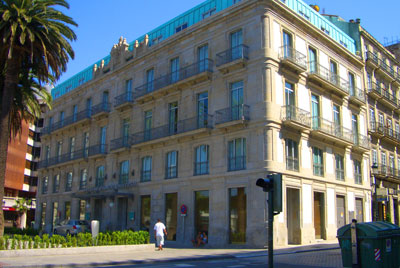 Most of the buildings constructed during the latter part of the 19th and the early part of the 20th centuries have impressive stone facades with differing levels of detailing and masonry ornamentation.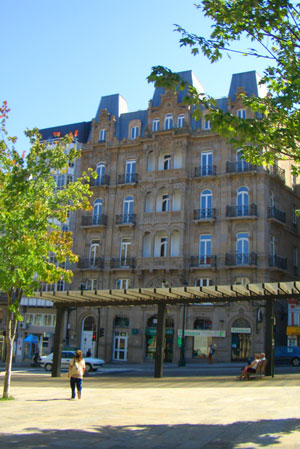 Vigo city is full of buildings like the one to the right. Some stand in isolation whilst others make up part of a terrace.